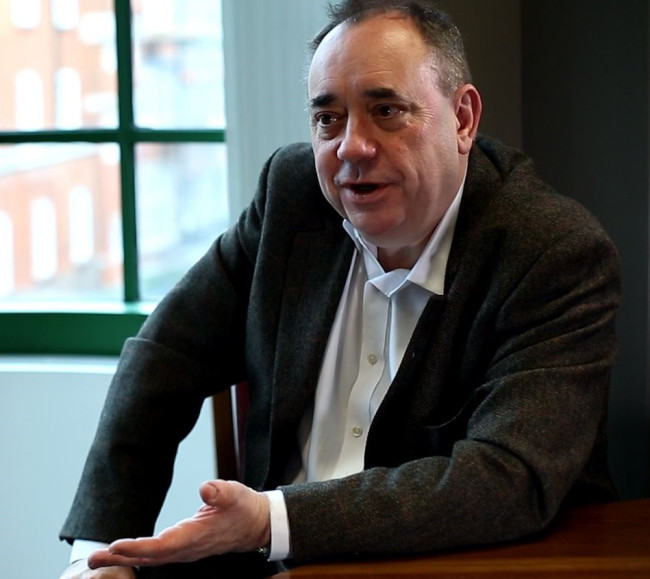 Alex Salmond has told IBTimes UK that he is not looking for a position in the British Government following May's General Election.
The former leader of the Scottish National Party (SNP) won international recognition during last year's Scottish referendum, when he led the 'Yes' campaign, and is standing for election to the British Parliament in the forthcoming election.
However Salmond, speaking exclusively to IBTimes UK, said he is not looking to capitalise on his soaring reputation to achieve a position in the Cabinet - adding that he is solely interested in pushing "progressive politics" and helping the cause of the Scottish people.
"I'm not standing for Westminster to obtain a position" Salmond told us. "I've been First Minister for Scotland, I don't need a position in the UK Cabinet.
"The job and role of Scottish National Party MPs in the next parliament will be to progress the interest of the Scottish people, I think we'll be in a position to do that very well, and secondly to progress progressive politics over these islands, I think we'll be in a position to do that as well."
Living wage and Trident are key issues
Asked which specific issues he would pursue in Westminster, Salmond said "the living wage, that's something we implemented in Scotland for the public sector. I think that's a campaign which we would be in a strong position to take forward over the UK, I think there would be a lot of support for it.
"The cancellation of the renewal of the Trident missile system, I think, would have also a reservoir of support. At a time when Labour and Conservative are talking about a £30bn further austerity programme, £30bn of cuts, it doesn't seem to make much sense to me, [or] I think to anyone else, to spend a similar amount of money in the next 10 years or so in replacing the Trident nuclear system.
"So there'll be areas that Nicola [Sturgeon, the current SNP leader] has identified where we can not just advance the Scottish position, which will be our prime responsibility, but also advance progressive politics in alignment, in concert with our friends in Plaid Cymru and the Green Party in England, who also I think will share many of our ambitions."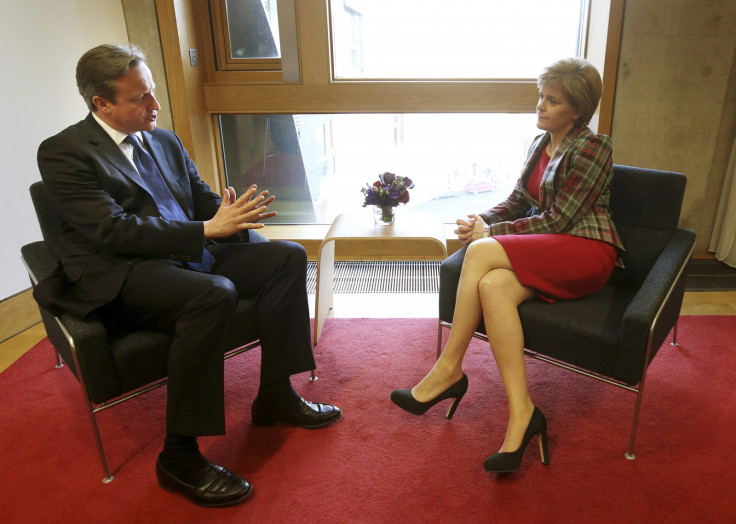 SNP-Labour coalition unlikely
Salmond also said he believes it is "unlikely" that the SNP will form a coalition government in Westminster following May's election, despite recent polls which suggest the party could win all but four seats in Scotland, giving them substantial representation in Parliament.
However he added that he supports the position taken by Sturgeon, who has refused to rule out anything bar an SNP-Tory power-share.
"What Nicola said is she's ruled out a coalition, informal or formal, with the Conservative party. She's ruled nothing else out," Salmond said.
"She said she thinks a coalition with the Labour Party is unlikely, but she's not ruled it out. I think it's unlikely as well.
"I'm the only practising politician in these islands who's actually run a minority government, I did that for four years [during his time as First Minister of the Scottish Parliament], and that gives you a first-hand impression of what you should do and not do in these circumstances.
"I think it's more likely that you would negotiate in a vote-by-vote basis. I think on the experience in Scotland, parties that did that were the most successful in obtaining their objectives.
"But Nicola, quite rightly in my view, has not ruled out anything else except a coalition, informal or formal, with the Conservative party. I think she's right to do that, and that's a sensible strategy."