The animosity from Arsenal supporters that has met the departure of Alex Song has not surprisingly been substantially reduced compared with that which accompanied Robin van Persie's exit from the Emirates Stadium last week.
While Van Persie saved the club from Champions League exile with 44 goals last season, the likes of Song and goalkeeper Wojciech Szczesny's consistent performances were left overshadowed and largely forgotten amid the awards bestowed upon the Dutchman.
If behind every great man, there is a great woman; then aside from every potent striker there are creative geniuses supplying the bullets, and while Van Persie showed an unerring finishing ability during last season's campaign, Arsenal provided him with enough opportunities to do so.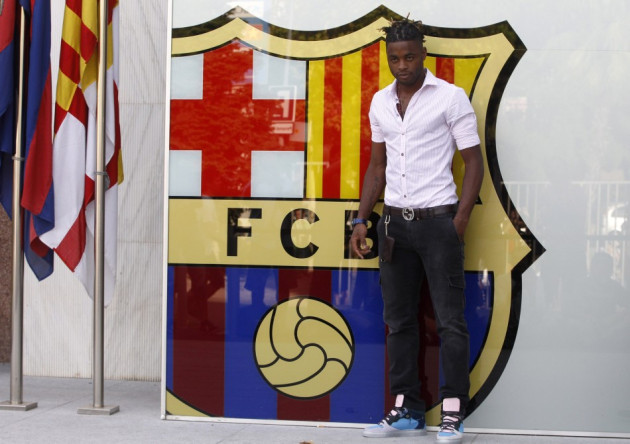 It's unrealistic for Arsene Wenger to find anyone in world football who could match Van Persie prowess in front of goal for a small fee, but in bringing in Lukas Podolski and Olivier Giroud, the French boss has more than made up for the goals potentially lost by the absence of their former captain.
Neither hit their straps in the opening Premier League game of the season, but you'd be naive to think that the pair won't eventually translate their impressive form internationally in the case of Podolski, and domestically in terms of Giroud, into goals for the north Londoners.
Or would you? If Podolski and Giroud are meant to fit in seamlessly because of the deluge of chances available for them to convert, then should you remove one of those primary creative sources, then you undermine the potential success of those replacements you make.
In selling Song, Wenger has released a player who was the club's most prolific creative player last season; with 11 assists to his name. Outside La Liga, you'll seldom find a player who can combine his creative and defensive responsibilities with such shrewdness; and in Song Arsenal had a player they could justifiably rely on to provide a consistent service.
With Van Persie gone, the chances for his replacements were unlikely to dry up, and if anything, with Santi Cazorla having joined from Malaga, Jack Wilshere set to return from a long-injury lay-off and Alex Oxlade-Chamberlain's reputation burgeoning still, opportunities were likely to be increased.
If Wenger had done a commendable job in replacing Van Persie, then his work has been complete undone with the sale of Song; a jack of all trades in midfield. If Arsenal's Champions League hopes, let alone their title aspirations, were resuscitated by the subsequent replacements, Song's departure could be the final death knock.