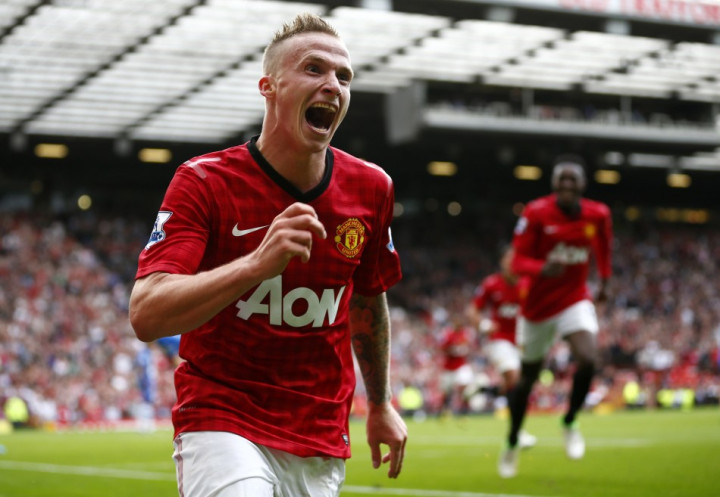 Alex Buttner has aimed a parting shot at Manchester United after agreeing terms with Dinamo Moscow.
The Dutch full back revealed last week he was in talks with the Russian club as he sought a move away from Old Trafford due to Louis van Gaal's lack of faith in his ability.
Buttner, 25, has failed to earn a call up to the Dutch national team during van Gaal's two year reign in charge and doesn't believe he will be given chances he feels he deserves for his club when the 62-year-old coach joins up with United following Netherlands' World Cup campaign.
Dinamo, who finished fourth in the Russian Premier League last season earning them qualification for the Europa League, have since confirmed they have agreed a contract with Buttner, with the defender revealing the club's participation in Europe next season has been key to his decision.
"I want to play in the Champions League and win trophies," Buttner told the club's official website. "Dinamo are building a very strong team and I am sure that we will be good enough to try and win the league title next season.
"This is my first time in Moscow and I will need time to adjust with my family. They flew out with me, so it would be easier to adapt.
"The training ground also have fantastic facilities. I am happy that I joined Dinamo."
The club added that they are still finalising "technical details" of Buttner's move and provided no details of a fee for the former Vitesse Arnhem defender.
Buttner, who has made just 13 appearances in the Premier League since joining United in the summer of 2012, failed to impose himself on the first team and with the club still in pursuit of Southampton Luke Shaw, he has sought a fresh challenge.
"Van Gaal never gave me the chance in the Dutch national team, despite being voted man of the match 14 times at Manchester United," Buttner was quoted as saying by Dutch daily De Telegraaf last week.
"Apparently, he is not very confident about me. So I think this is the right moment to leave."
The defender's agent Alexander Bursac backed such claims and added United were still in talks to sign England international Shaw, which was reason enough for him to seek a new opportunity for his client.
"Staying at Manchester United for Alexander was not an option," Bursac told also told Voetbal International.
"In the past two years, Van Gaal has ignored him again and again. What kind of perspective will he have under him as a club coach? Especially now Patrice Evra has re-signed with they are still trying to get Luke Shaw."