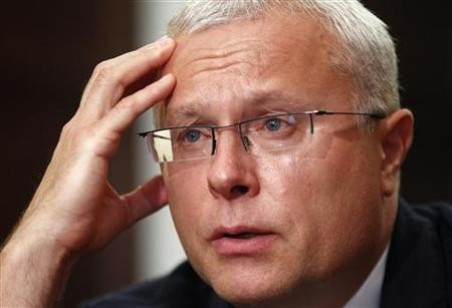 The Russian oligarch who owns the Independent and Evening Standard is bracing himself for a lengthy prison term if, as expected, he is convicted of hooliganism by a Russian court.
Mulitmillionaire tycoon Alexander Lebedev is charged with "hooliganism motivated by political hatred" after he punched the property magnate Sergei Polonsky when a televised debate descended into a brawl.
Lebedev faces a maximum sentence of five years in a case he says is motivated by corruption. A verdict is due on 3 July, despite the main witness failing to give evidence.
"In Russia, 0.2% of criminal cases brought to court by state prosecutors end with acquittals, so clearly the odds are stacked against me," Lebedev said.
"Once you are caught up in the wheels of this system, it is almost impossible to escape conviction. Anyone can see that I'm innocent but obviously I have to prepare myself for jail. What I'm hoping for is a sentence of less than two years.
"To put it mildly, it's unpleasant, but I'm mentally steeling myself. I'm not scared. I won't flee."
The Independent last week announced a major restructuring plan to consolidate the jobs of 300 staff across the Independent, the 20p "i paper", the Standard and the soon-to-be-launched London Live TV station.
Amol Rajan, 29, was named editor of the Independent and Oliver Duff, also 29, appointed to head The i Paper.
The editors will report to Lebedev's son, company chairman Evgeny, on editorial matters, the company announced.
Alexander Lebedev, 53, said he had made provisions for the running of his business interests should he be sent to prison, saying that his wife Elena, a former model, was "strong and ready to face the possibility of me going to jail".
The brawl, which occurred almost two years ago, culminated in Lebedev knocking Polonsky from his chair after becoming offended by his remarks.
The case is belived to have been ordered by Russia's most powerful prosecutor, Alexander Bastrykin, who has been embroiled in a public dispute with one of Lebedev's newspapers, the Novaya Gazeta, which had been investigating state corruption.
Lebedev's offices were later raided by armed police. Lebedev called the action an attempt to drive him out of Russia.
The trial descended into farce after most of the prosecution's witnesses failed to turn up, while no evidence has been presented to substantiate claims of political hatred.
Polonsky himself failed to attend. He had been in prison in Cambodia, and was later charged in absentia with embezzlement over a £120m property deal after he fled to Israel.
Watch the moment when Lebedev lost his cool on TV again.