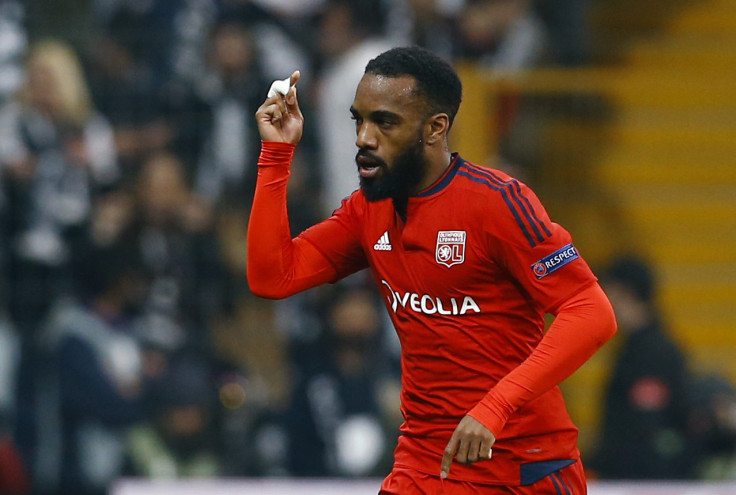 Lyon striker Alexandre Lacazette has opened the doors for a move to Arsenal in the summer, claiming that playing in the Champions League is not the most important yardstick for choosing his next club. The Gunners have been heavily linked with a move for the player in the last few windows but a concrete offer has never materialised from the north London club thus far.
Manchester United have also shown interest in the striker as it was made clear that they will be unable to sign Antoine Griezmann this summer after Atletico Madrid's transfer ban imposed by Fifa was upheld following an appeal with the Court of Arbitration for Sport (CAS). Jose mourinho is keen to sign a prolific goalscorer for the Red Devils, given that the Europa League winners have scored only 54 goals in the recently concluded campaign.
The Mirror reports that United are willing to pay up to £50m ($64.3m) for the player to fend off interest from the Gunners, who had a bid rejected by Monaco for Kylian Mbappe already this summer. Lacazette has had yet another prolific season in Ligue 1 scoring 37 goals in all competitions but insists that playing in the Champions League would still be an important part of his consideration.
"Is the Champions League a dealbreaker for my choice? No, but it is important," he said in a live Facebook chat hosted by Eurosport, as quoted by Goal. "In making my choice, I will look at my position [in my next club], if there are not too many players, so I won't be benched and I will be able to play. The Premier League is interesting. That does not mean I will go, and that does not mean I will refuse to go."
Lacazette has also been linked with a transfer to Atletico Madrid, but the transfer ban means that any such move in the summer is out of the question. The deal can still go through if he decides to return on loan to Lyon till January, before joining his new club. However, Lacazette is not too interested in that prospect and wants to have his future sorted without any discrepancies.
"Like everyone else, I heard the news. This was always going to be a possibility, it was 50-50. The decision has not perturbed me, life goes on," he added. "A loan to Lyon until the winter window? I have not looked at that much because the president is saying that that is not possible. We will have to prepare ourselves for all eventualities, but that is not the way I want it to go."