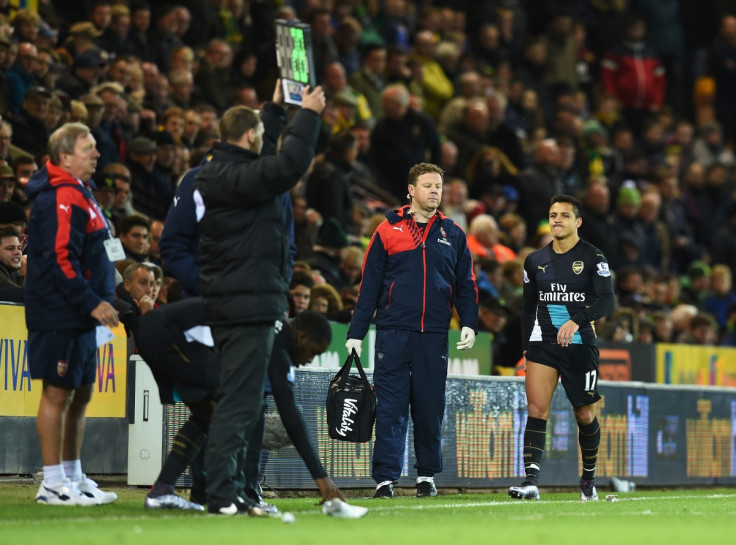 A spiky Arsene Wenger has defended his decision to not rest Alexis Sanchez during Arsenal's disappointing 1-1 draw against Norwich City at the weekend, despite harbouring concerns over an ongoing fitness problem. The 26-year-old notched a brace and featured for 90 minutes of a 3-0 Champions League victory over Dinamo Zagreb last week, with his manager subsequently revealing that he had experienced a "little hamstring alarm".
Despite that, Sanchez was deemed fit enough to start the match at Carrow Road, but lasted only an hour before appearing to exacerbate the issue and being replaced by Joel Campbell. Such a crucial loss added to a miserable day of injuries for the Gunners, who also withdrew Laurent Koscielny in the first half with a hip issue and saw midfielder Santi Cazorla hurt his knee.
Arsenal icon Thierry Henry is among those to have questioned Wenger's choice to not reduce the workload placed upon arguably the club's most influential player, yet his fellow Frenchman insists that the media do not dictate team selection in such circumstances.
"The players are there to play football and not to be rested and not for the press to decide if they need to be rested," he said, as reported by TalkSPORT. "He says it is a kick on his hamstring, I believe that is not really the reality. I fear it is not the reality."
Sanchez's schedule has been unrelenting of late, with his recent run of fixtures including World Cup qualifiers for Chile against Colombia and Uruguay respectively. While Wenger acknowledges that such lengthy trips may have given cause for a break, he claims the forward cleared the necessary pre-game checks and did not voice any worries regarding his continued involvement.
Wenger added: "At the moment we have – on the striker front – not much choice, Maybe the travelling as well to South America....I would have rested him today but he felt perfectly all right before the game and he declared that he had no problem.
"We checked it [Sanchez's hamstring]. When you have normal force and normal stretch there is no problem and he had that. Nobody is scientifically developed enough to predict when a guy will be injured. I must say with all humility we are not in a position where we can predict [injuries] despite all our tests."