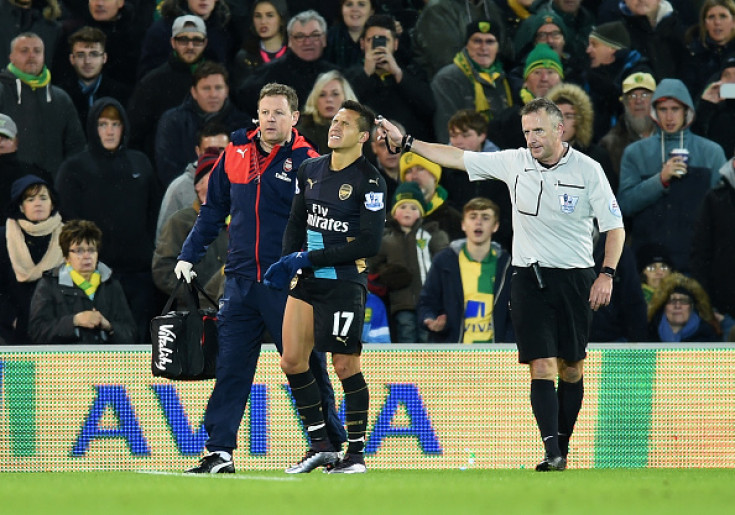 Arsenal have suffered a massive blow after their 1-1 draw against Norwich City as star trio of Alexis Sanchez, Santi Cazorla and Laurent Koscielny picked up injuries during the league clash at Carrow Road.
The France international centre-back was the first player to be replaced at the start of the match due to a hip problem. The former Malaga midfielder was replaced at the start of the second half after he complained about a knee injury.
Sanchez, who had picked up a minor hamstring injury in the Gunners' 3-0 victory over Dinamo Zagreb in the Champions League, has reportedly aggravated the problem. Wenger had praised the Chilean international prior to the league clash and started the forward on Sunday against Norwich.
The former Barcelona star suffered the hamstring injury, which saw Wenger deploy Joel Campbell on the left side of the wings. The north London club's manager revealed that Sanchez's injury is worse than it looks and also suggested Cazorla's injury got worse after he got a kick on his knee.
"He [Sanchez] says it is a kick on his hamstring. I fear the reality is worse than that. We checked him [before the Norwich game] and when you have no force and no middle stretch in your hamstring then there is no problem and he had that," Wenger said, as quoted by Arsenal's official website.
On Cazorla and Koscielny's injury, the Emirates club's manager said: "In the first half he got a kick on the knee and it got worse. I don't know if he has jaded his knee ligament or he it was just a kick on the nerve but the worrying thing was it got worse during the game. For Koscielny it was a kick on his hip and he could not move at all. We have to assess all of that."
The Gunners are waiting to find the full extent of their injuries, according to Sky Sports. Arsenal are already without several first team players through injuries. Sanchez Cazorla and Koscielny join Mikel Arteta, Francis Coquelin, Theo Walcott and long-term absentees Jack Wilshere, Danny Welbeck and Tomas Rosicky on the treatment table.