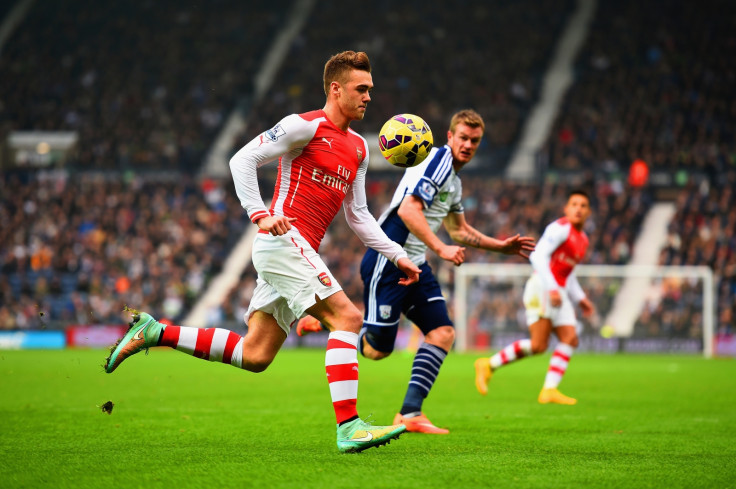 Arsene Wenger is willing to give Calum Chambers a chance to prove himself in the defensive midfield role in the absence of Francis Coquelin, before deciding on whether he has to invest in the market in January. The French midfielder, who was a revelation for the Gunners since coming back into the team last January, has sustained ligament damage on his knee that should see him out for at least 12 weeks.
The Evening Standard reports that Chambers is already being assessed by the team during training sessions and will be given game time during the Premier League and other competitions to make the position his own. The defender came on as a late substitute against Dinamo Zagreb in a comfortable 3-0 victory in the Champions League, but more assessment needs to be done before considering him as a viable option for the long term.
Wenger is unwilling to use Aaron Ramsey in the deep lying midfield role alongside Santi Cazorla as he believes it disrupts the balance of the side, with both players more attuned to attacking than holding the fort. The Welshman, who is back from a hamstring injury, will slot back into the right wing where he can join in attack and also bring some defensive structure to an otherwise attacking Arsenal frontline.
Mathieu Flamini is currently being used in that position but there are question marks over his fitness, with the player having gone off injured in his first start for the Gunners against Leicester City in the league, having played a full ninety against Tottenham Hotspur in mid-week. The Frenchman insists that it will not be an issue as more playing time means that he will be able to keep himself in shape and fill in for Coquelin, who was largely credited for Arsenal's brilliant year thus far.
The Gunners are currently fourth in the league, having taken only one point from a possible six in their last two games. They face Norwich next at the Carrow Road on Sunday (29 November), where a win, results permitting, may take them top of the league, an opportunity they squandered in their last two games.