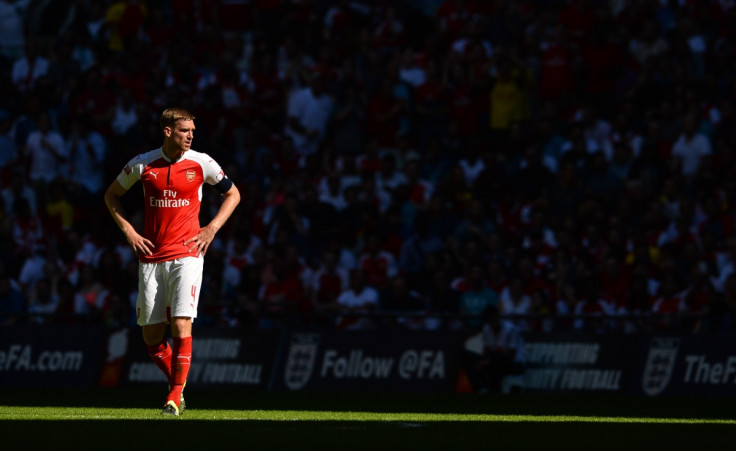 Arsenal defender Per Mertesacker has urged the team to step up to the plate and win the title this season as "an FA Cup win will not suffice". A win against Norwich City on Sunday (29 November) will take the Gunners back into at least second spot, joint on points with Leicester City and Manchester City.
This is Arsenal's best chance to end their 11-year wait without the league title with teams around them failing to live up to expectations and Chelsea's glorious fall from grace. The Manchester clubs are struggling to string a run of wins together, but the Gunners have yet to take advantage, failing to go on top of the league on their last two occasions after City dropped on points.
The Gunners suffered a massive setback against West Bromwich Albion, not least in terms of points after a 2-1 defeat, but the injury to Francis Coquelin, who has been central to their brilliant form over the course of the year. The 24-year-old will be out for at least 12 weeks after suffering ligament damage on his right knee. Calum Chambers has been earmarked to replace him in the first team, with the former Southampton given some time against Dinamo Zagreb to prove himself in the middle of the park.
The Gunners also have Jack Wilshere, Theo Walcott, Danny Welbeck and Tomas Rosicky on the sidelines, with Alex Oxlade-Chamberlain pencilled in for a return against Norwich. However, Mertesacker believes that notwithstanding the debilitating injuries, Arsenal have a great chance of ending their title drought this season.
"We want to be involved until the end – that's the target. We have improved already from last season and that is why we are looking forward to the next fortnight as they are defining weeks for the team," Mertesacker was quoted as saying by the Mirror.
"We are very united. That is my feeling over the past couple of years. We always build up something and now it is time to prove we can do something. Doing great things means winning something where you need to be consistent for more than six games," he said.