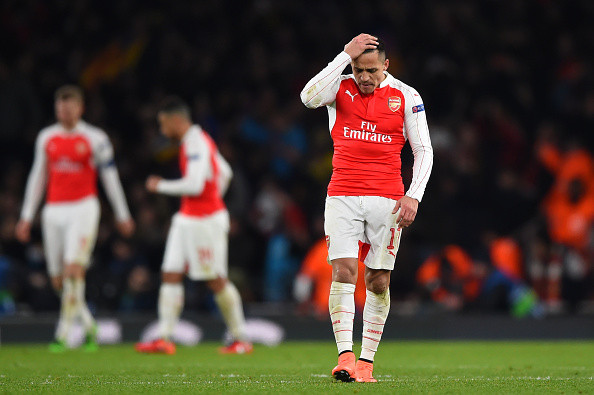 Alexis Sanchez believes Arsenal do not have the hunger to win the Premier League, despite the side possessing the talent to do so. The former Barcelona forward also admitted he has failed to hit his best form this season due to the lingering after-effects of his participation in the Copa America last summer.
The Gunners suffered a new blow to their hopes of winning a first Premier League title in 12 years on 2 March, suffering a 2-1 defeat to relegation-battling Swansea City at the Emirates Stadium. Having also lost to Manchester United at the weekend, Arsenal play the North London derby against Tottenham Hotspur on Saturday (5 March) in third, six points behind league leaders Leicester City.
Sanchez says his side have the talent to turn around the situation, but lack self-belief in their abilities to do so.
"I think that we can win the Premier League with the players we have," he said during an interview with DirecTV Sports before the defeat to Swansea. "However, we lack a certain hunger. We need to step out onto the pitch as if we're already 1-0 up.
"We lack self-belief that we can actually be champions. I remember a game against Manchester United last season. The lads looked hungry for silverware as we took to the pitch. We crushed them in the first 20 minutes and went 2-0 up. We were hungry and brimming with confidence that day."
Sanchez is one of many players currently singled out by Arsenal's fans over poor form. He has scored just six goals this season, compared to 16 in his debut campaign in England.
When asked about his downturn, he explained: "This season has been tough for me. Last year, after winning the Copa America, I finished very tired and I had a slow start to the campaign. I have not been completely fine yet, but I'm slowly getting myself in shape to help the team,
"I know how to dose myself on the pitch. I know when I have to go hard or slowly when I am tired and that helps me to be better ahead of the next game. But sometimes when I stop I feel more tired, as if I had not trained in a month. The more I play, the better I feel," Sanchez added.
"Players never play at 100%, you always have a problem. You are the only one who knows if you are fit or not but the player always has minor knock or something that bothers him a little."