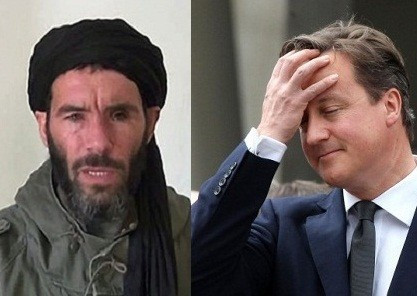 Fewer Britons are caught up in the Algerian gas station hostage crisis than first feared, David Cameron has told MPs, but the crisis is not over yet.
The prime minister addressed the House of Commons on the unfolding situation in the north African country, where Islamist militants and government forces fought a bloody battle at a remote gas plant near the border with Libya.
Condemning the "brutal and savage" attack on staff at the In Amenas facility by7 militants believed to be following Mokhtar Belmokhtar, Cameron said that the number of Britons involved was fewer than 30, the figure initially reported.
The Conservative leader added that "our priority is the safety of those involved" and told the House that a British consular team was en route to Algeria to offer help to the country's government.
Cameron said Algiers was "looking at all possible ways" to end the hostage crisis.
One Briton has been confirmed dead in the attack so far and Cameron warned it was not over. He said bereaved relatives were being aided by police liason officers and BP - one of three firms which own and operate the gas facility.
On Thursday, 11 BP staff were flown out of Algeria by the oil firm following the attack.
Cameron said the government was "urgently coordinating" with firms operating in the north Africa region. All companies based there are on high alert and people have been advised not to travel to the area.
The PM blamed Islamists who want to impose strict sharia law for the raid.
Threat reduced
"The terror threat comes from Aqim (Al-Qaeda in the Magreb) who aspire to sharia law, [such bodies constitute a] growing threat in that part of the world," said Cameron.
"The threat has reduced in Pakistan and Afghanistan and it has grown elsewhere. We need to be equally concerned and equally focused on that."
Cameron repeated to the House of Commons that he was not told about the rescue bid by Algerian forces until after it began.
He held talks with the Algerian prime minister before going to parliament. Cameron reiterated that the government fully backed Algeria's efforts to end the hostage crisis.
"We need to be absolutely clear the terrorists are responsible for the loss of life. Terror can never be justified. We will stand resolutely with the government.
"This is a continuing situation and we hope it will reach a resolution shortly."
Cameron called off his speech in Amsterdam in response to the hostage crisis in Algeria.
He was expected to talk tough on the need to reform Britain's relationship with the European Union.
This is the second time Cameron's speech on Europe has been rescheduled. It was originally penciled in for next week - on the 50th anniversary of France and Germany's partnership agreement.