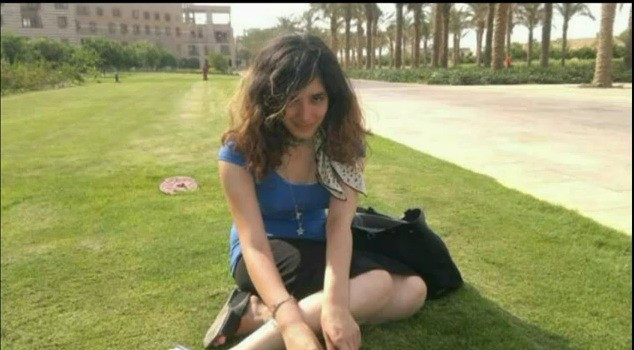 Aliaa Magda Elmahdy, the blogger who posted nude pictures of herself on a blog in a protest against Islamism, is gaining unusual support from expat Egyptians and Arab commentators in Western countries alike, while facing backlash and furious criticism among liberals inside the country.
As the Economist pointed out, some of the fiercest criticism of Aliaa came not from Islamists but from fellow secular-minded people, "who fear that her daring only serves to tarnish liberal ideals".
The 20-year-old activist and student at America University in Cairo found herself entangled in a campaign season political fight, especially among lefty liberals battling conservative Islamist in the upcoming elections.
Earlier reports this week indicated an alleged link between Aliaa and the April 6th Movement, a pro-change group which played a major role in the January 25 revolt that toppled President Mubarak. But its spokesman was soon in dismissing all the allegations. Speaking with the pan-Arab news channel Al Arabiya, a member of the movement said that "the group does not have any members who engage in such behaviour".
"We are conservative youths, and we always encourage our members to be role models as far as ethics are concerned," he said. "How can we have accepted the membership of a girl who behaves like this?"
Later, Aliaa herself played down her role in the April 6th Movement, although her boyfriend, Kareem Amer, spent four years in jail for his blog posts which resulted insulting to Islam and Mubarak, and is widely considered a hero of the freedom of expression in Egypt.
Even political candidates in Egypt express their stern disapproval to Aliaa's move. "Many movements in Egypt, particularly Islamist movements, are trying to benefit," said Emad Gad, a parliamentary candidate from the left-leaning Egyptian Social Democratic Party. "They say, 'We have to protect our society from things like this, and if the liberals win then this woman will become a model for all Egyptian women.'"
New Pictures of Aliaa Magda Elmahdy, the Nude Blogger
But many expat Egyptians, liberal commentators and Western-based Arab journalists back Aliaa's courage and back her challenge to misogyny and the sexual hypocrisy of Egypt's leaders.
Recalling the infamous "virginity tests" carried out in March by the military to women in Cairo's Tahrir Square, Egyptian-American journalist Mona Eltaway worte: "She is the Molotov cocktail thrown at the Mubaraks in our heads - the dictators of our mind - which insists that revolutions cannot succeed without a tidal wave of cultural changes that upend misogyny and sexual hypocrisy."
Another Egyptian-American, the actress Amanda Banoub, defended the young woman saying that "people are angered by Aliaa because she displayed genuine purity and modesty without a single layer of clothing".
She added that "nude art is the reflection of humanity. It's not about like or dislike. It's about observation and connection".
"If you have a problem with nudity, you have a problem with humanity," she said.
An Iranian-born activist based in the UK, Maryam Namazie, called Aiaa's pictures "a scream against Islamism" in a blog post. "Showing her body particularly at a time when Islamists in Egypt are trying to secure power is the ultimate act of rebellion," she wrote. "Don't forget Islamists despise nothing more than a woman's body. In case you didn't know, women are the source of corruption and chaos and must be covered up at all times and not seen and not heard."
This is true also for the women subjected to "virginity tests" who did not receive such attention because their names have not been hashtagged or endlessy mentioned. Perhaps Aliaa's brave pictures will help them to regain self-confidence and denounce their persecutors.