Jay Z has finally spoken out about Beyonce's new album Lemonade following speculation that he has cheated on the singer. The hip hop mogul has dropped a verse on the remix of Fat Joe and Remy Ma's track All The Way Up featuring French Montana, and has used it as an opportunity to address the recent scrutiny over his marriage to the superstar.
Rumours about their marriage have been flying since Beyonce's sixth album Lemonade, on which the singer appears to reveal that Jay Z, 46, has been unfaithful during their eight-year marriage. Responding to the furore, Jay Z raps on All The Way Up: "You know you made it when the fact your marriage made it is worth millions/Lemonade is a popular drink and it still is/Survival of the littest."
Long-time hip hop fans will know that the lyric is a reference to a line on Gang Starr's 1992 track DWYCK: "Lemonade was a popular drink and it still is/I get more props and stunts than Bruce Willis." The All The Way Up remix premiered on Funkmaster Flex's radio show in the US and the original version features on Fat Joe's forthcoming mixtape with Remy Ma, Plata O Plomo.
The power couple put on a united front, stepping out for dinner together at the Del Posto Italian restaurant in New York on Tuesday ( 24 May). The Grammy-winning rapper has also supported Queen Bey, 34, by attending several shows on her Formation world tour, which launched in April.
Alluding to his infidelity, Beyonce sings on the Lemonade track Sorry: "He only want me when I'm not there/ He better call Becky with the good hair," and: "Looking at my watch, he shoulda been home/ Today I regret the night I put that ring on/ He always got them f*****g excuses, I pray to the Lord you reveal what his truth is." She also sings on the Jack White-assisted Don't Hurt Yourself: "Who the f**k do you think I is? You ain't married to no average b***h, boy... And keep you money, I got my own/ Get a bigger smile on my face, being alone."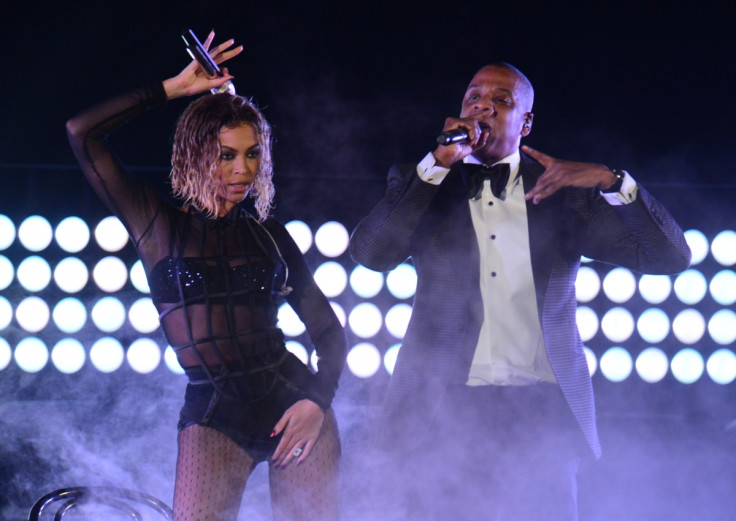 Lemonade earned Jay Z's music streaming service Tidal 1.2 million new subscribers in its first week of release and generated 306 million streams worldwide. Reports now suggest that the couple will address the "Becky" cheating scandal further on their first joint album, which is reportedly finished and ready for exclusive release via Tidal.
Not only is it the first time that Jay Z has publicly addressed the rumours, but it is also a rare verse from the rapper who has taken a step back from music since the release of his 12th studio album Magna Carta Holy Grail in 2013. In April 2016, he did deliver a verse for the original version of Drake's Pop Style with Kanye West but the Watch The Throne pair's contributions were removed. Jay Z is next expected to feature on DJ Khaled's forthcoming Major Key album on a track titled Going To F**k The Summer Up featuring Future.
Listen to Fat Joe's All The Way Up remix featuring Jay Z