Over the past seven-and-a-half years, Manchester City have gone from being Manchester United's noisy neighbours, as Sir Alex Ferguson famously described them, to become a Premier League heavyweight capable of securing two league titles in the past three seasons.
However, while Sheikh Mansour bin Zayed Al Nahyan's billions – which helped to attract the likes of Sergio Aguero, Yaya Toure, David Silva and, last but not least, Pep Guardiola – are largely credited for transforming City's fortunes, the blue half of Manchester has a woman to thank for for such a remarkable turnaround.
Amanda Staveley brokered the deal that saw Mansour, the half-brother of the current Emir of United Arab Emirates (UAE), Khalifa bin Zayed Al Nahyan, purchase City for £210m ($301m) in September 2008 and while the deal was to have momentous consequences for English football, it was not the biggest she would conclude with the deputy UAE's deputy prime minister.
Earlier in 2008 Staveley's firm, PCP Capital Partners, had facilitated a £5.8bn investment in Barclays by the ruling families of Abu Dhabi and Qatar and by the Qatari sovereign wealth fund, which saw Mansour take control of a 16% stake in the bank.
The deal, which provided the FTSE 100 lender with much-needed funds at the height of the financial crisis and saw Staveley, 42, file a £700m lawsuit against the bank, reportedly earned PCP a commission worth £110m, which translated into a £40m profit after advisers received their share.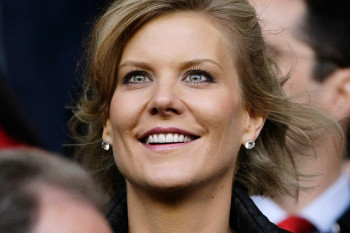 Mansour's purchase of Manchester City in 2008 was not Staveley's only foray in the Premier League either as, in the same year, she was involved in extended negotiations as Sheikh Mohammed bin Rashid Al Maktoum's Dubai International Capital looked to buy a 49% stake in Liverpool Football Club.
However the deal, which would have earned Staveley a place on the directors' board at Anfield, eventually collapsed, but confirmed the then 35-year-old as one of the most prominent and rapidly emerging business figures in Britain, only years after she had entered the financial scene.
Born near Ripon, north Yorkshire, to a wealthy family, her father Robert is a landowner who inherited a 175-acre estate gifted to an ancestor by Cardinal Wolsey in the 16th century, Staveley cut her teeth in the hospitality and modelling industry long before she began negotiating deals worth hundreds of millions of pounds.
Educated at the exclusive Queen Margaret's School near York, Staveley earned herself a place at Cambridge to study modern languages, supplementing her student grant by working as a part-time model, before abandoning the course after falling victim to stress in the wake of her grandfather's death and ending up in hospital.
"I was at the end of my tether," Staveley admitted in an interview a few years later. "I had always been the perfect student as a child, but suddenly the pressure got too much."
Aptly for a woman who had entertained the thought of becoming an Olympian as a child – either in showjumping, a discipline in which her mother was largely successful, or as a sprinter, after she ran 100m in 12.6 seconds at the age of 14 – Staveley's competitive edge shone through and she quickly overcame the setback.
In 1996, aged only 22, she borrowed £180,000 to acquire the Stocks restaurant in Bottisham, between Cambridge and Newmarket, which she then ran herself. The business proved to be a pivotal moment in Staveley's career as she forged connections with the horse racing elite, including senior staff from the Godolphin stables owned by al Maktoum, the ruler of Dubai.
Prince Andrew
The relationship with wealthy families from the Gulf States proved invaluable for Staveley's involvement in the Premier League, which earned her the nickname of "Queen of football", a rather apt moniker given the businesswoman allegedly turned down a marriage proposal from Prince Andrew.
The pair first met when the man who once was second in line to the throne was shown around Q.ton conference centre at Cambridge Science Park, which Staveley had bought for £10m, in 2001 and he invited Staveley out for dinner the following night.
Despite being in a relationship with financier Mark Horrocks, Staveley accepted and Prince Andrew reportedly proposed to her in 2003, though nothing came of it. By then, Staveley had sold a large stake in Q.ton to the broadband and IT services company EuroTelecom, which entered administration less than a year after raising £17m by floating on the stock market.
With her relationship with the Emirates growing even stronger, the former restaurant manager eventually moved to Dubai, after creating PCP as a vessel for her business interests and acting as an adviser on multimillion deals.
The rest, as they say, is history.