This summer saw a slew of articles that portrayed bigtech as banking's nemesis. Many newspapers wrote that the mighty tech triumvirate – Amazon, Apple and Google – had banking in their sights. They warned banks to take note.
At Sibos, in the autumn, it appeared they were right. Amazon attended SWIFT's annual banking conference for the first time, sending reporters back to their desks to file more doom and gloom copy.
But I questioned these stories and it really made me think about what's at stake. As I see it, newspapers have failed to spot the real story. Here's my scoop.
Core banking is safe. Distribution may be under threat. Of course, banks must assess the new digital landscape, but it's not one over which they need lose control.
Core banking is hard
Core banking is safe because it's hard. Barriers to entry are high – think licences, expertise, balance sheets. What is more, it's low margin. It's worth remembering that arch disrupter Elon Musk looked at starting a bank, at all the regulations and paperwork, and decided it was easier to land on the moon.
Distribution in the banking sector is more open to new entrants because of the revolution in new digital channels. Also, that is where the money is. According to a recent McKinsey report, banks make 67 per cent of their profits from distribution, which accounts for just 45 per cent of their revenues.
If bigtech aims its guns at banking, it is going to be here. Bigtech is closing in. Amazon, for example, is offering loans to small businesses on its Marketplace, and Uber to people wanting to buy a car.
Both offers are aligned with their core competencies – selling things and car travel. It's likely that they will take some market share from banks, but neither has a full banking licence and I'm pretty unsure that neither they, nor their fellow bigtechs, want one – think Elon Musk again.
It's the piranhas
The question, then, is how big a threat are they? From my viewpoint, not that big. That's not to say banks don't need to look out; it's not the bigtech sharks that might gobble up their market, it's the piranhas – the small start-ups – and their oversized appetites.
New players are joining the field, with some 30 new banks in the UK alone. N26, for example, is a platform company that allows its customers to offer digital and compliant financial services. Others – such as Starling and Atom – have set up on a much lower cost base than traditional banks, employing perhaps tens of people instead of tens of thousands.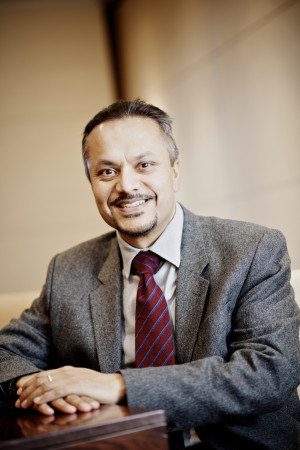 The newcomers operate by identifying lucrative niches. They aim to be the masters of data and service. Coconut, for instance, is a bank aimed at contractors – offering to do tax returns, send out invoices and keep note of expenses. In the UK, there are some 5.5m contractors – that's a good-sized market. If Coconut manages to get just 10 per cent, it will be bigger than some full service banks. On their own, they are unlikely to give banks a run for their money. Collectively they will.
Banks can compete
But banks have data, they can do service and they can cut costs to compete. However, it does mean going digital.
Banks that adopt a digital core will be in prime position to compete with whoever comes along. They will be able to use the efficiencies delivered by a unified back end to bring down costs, while a nimble front end will be capable of leveraging customer data to carefully target distribution and sales.
A front-to-back solution eliminates customer data silos and duplication and allows the bank to quickly develop and launch new products and services for mass and niche market segments.
And banks have more. Despite a rocky few years, they have the public's trust – not something that can be said about bigtech. Just this month (November), Google was found to have illegally collected location data from phones with location services turned off.
For me the story is not about a shark attack; it's the piranhas. Lower barriers to entry mean new kids can enter smarter and cheaper.
As long as banks keep this in mind and plan accordingly, they will be just fine. And Temenos is there to help them.