Amazon will launch its Fire TV Stick in the UK on 15 April to challenge the dominance of Google's Chromecast and to attract customers it will cost from as little as £7.
Amazon launched the USB-sized Fire TV Stick last October in the US and just as it did with its Fire TV set-top box, the company is now launching it in the UK. Amazon says the Fire TV Stick offers all the features of its set-top box, but in the compact form of a dongle which plugs directly into your TV's HDMI socket.
The Fire TV Stick will allow you to stream content from Amazon's own streaming service known as Prime Instant Video (though a subscription is required) as well as giving you access to popular services like Netflix, BBC iPlayer, BBC News, BBC Sport, Sky News and Curzon Home Cinema.
The Fire TV Stick costs £35 but for those with a Prime membership it will cost just £19 if ordered on 24 or 25 March. Those signing up for new Prime memberships will also get the discounted price of £19 and later receive a refund of £12 meaning the Fire TV Stick will only cost them £7.
While the Chromecast officially costs £30, it has been available in retailers for as little as £18.
Fire TV Stick vs Chromecast
While Amazon is releasing a smaller version of its streaming box in the UK, Google is reported to be ready to do the opposite and launch its Nexus Player in the UK this week, costing £80, with a ironically listing appearing on Amazon ahead of schedule.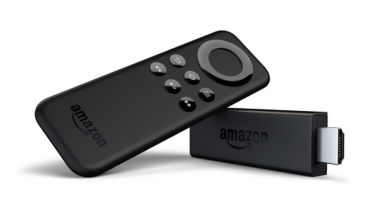 In terms of hardware, the Fire TV Stick on paper is a much more powerful device than Google's streaming dongle, which isn't surprising considering the Chromecast is over 18 months. The Fire TV Stick features a dual-core processor with 1GB of RAM and supports both 5GHz and 2.4GHz Wi-Fi. It has 8GB of onboard storage compared to the 2GB on the Chromecast.
While Amazon's Fire TV set-top box comes with a very clever voice search function built directly into the remote control, this is not present on the remote included with the Stick, though there are a couple of ways you can still use voice search with the dongle.
The first is to pay an additional to buy the fancier remote control which costs £25, while the other is to download the dedicated Fire TV app for Android or iPhone which has a voice search feature.
Gaming is also one of the big selling points for the Fire TV and Fire TV Stick with Amazon selling a separate gaming controller for £35 to use with the now over 200 titles available on the platform.