Amazon Fire TV Review Key Features:
Content from Netflix and Amazon Instant Video.
Screen mirroring.
Gaming.
Voice Search.
Quad-core processor with 2GB RAM.
Price as Reviewed: £79.
Amazon Fire TV Review
The way people watch TV today has caused a problem. The discerning viewer no longer wants to watch live television, they want to watch content on-demand, but don't want to be limited in their choice by the platform.
So far, nothing has come close to solving this problem and while Amazon's Fire TV does better than most, it is still nowhere near a complete solution.
The problem is that no one has produced an all-encompassing offering that will let you get everything you want in one device. You have smart TVs, set-top boxes like Apple TV and Roku, and streaming dongles like Chromecast, all essentially promising the same thing - on-demand TV and film on your large screen TV.
Entering this market is Amazon with its Fire TV set-top box which promises access to thousands of TV shows and films with unique features such as voice search and gaming.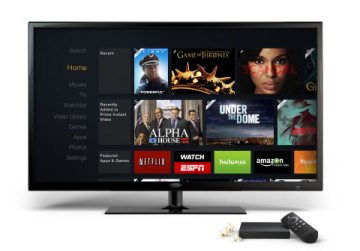 Fire TV: Content
The look and feel of a set-top box is virtually irrelevant when compared to the importance of the content that is available on it. I would rather have a massive lump of ugly plastic with all the content I want than a sleek metallic cube which has a terrible selection of shows.
The Fire TV is better than most.Obviously it gives you access to Amazon's own Instant Video streaming service (£5.99-a-month or free with Amazon Prime subscription) but where Amazon has thankfully had some sense is to allow other streaming services access to the platform as well.
Most important of these is market leader Netflix, which means the Fire TV is the most convenient way of watching the two services on a single device. Add to this BBC iPlayer, Sky News, Vimeo, and YouTube and the amount of content on the Fire TV is fairly comprehensive.
Amazon's Instant Video offering is getting better all the time and its home-grown content is increasing in volume and quality with the excellent Transparent the pick of the bunch.
Music is also an important part of the Fire TV appeal, again offering users Amazon Music streaming (though this is not available in the UK yet) as well as the likes of Spotify, meaning you can make the most of your existing subscriptions.
Finally, Amazon is offering unlimited photo storage to its Prime customers, meaning all your photos are available on your TV to browse through.
Fire TV: Setup
If you order your Fire TV through Amazon it will come already set-up with your Amazon account and a nice set-up animation greets you the first time you turn it on.
In the box you get the Fire TV, remote control (with batteries included) and power cable. What you don't get is an HDMI cable or Ethernet cable, which is annoying (particularly the lack of a HDMI cable).
You don't need an Ethernet cable necessarily, as you can connect using Wi-Fi, but for consistency and speed I found a wired connection to be better.
Once you have your Fire TV hooked up to your TV and internet, then you're done. If you have a Netflix account you will need to enter your login details but other than that, set-up is relatively pain-free.
Fire TV: Hardware and Performance
As I said, the look of a set-top box is not very important compared to the content, but Amazon's Fire TV is on a par with the Apple TV in terms of looks. It is slim and sleek enough to blend into the background of most living rooms.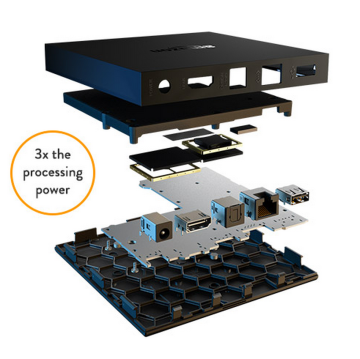 But while it looks good on the outside, the hardware on the inside is much more impressive. A quad-core processor, 2GB RAM, 8GB storage and dual-band Wi-Fi add up to make the Fire TV more powerful than the Apple TV or Chromecast.
The result is a buttery smooth performance with content loading almost instantly and an interface that is highly responsive.
The powerful hardware also makes for smooth gaming performance even on high-end 3D games.
The Fire TV even uses an adaptive bitrate algorithm to increase or decrease the quality of the video you are watching to reflect the speed of your broadband connection at the time.
Fire TV: Interface
The interface is relatively simple with a text menu running down the left-hand-side of the screen with visual menus dominating the rest of the screen.
It is intuitively easy to navigate and thanks to the Fire TV's ASAP (Advanced Streaming and Prediction) feature, the system learns what content you like and will pre-load shows it thinks you want to watch next, speeding up load times even further.,
Amazon has also integrated its X-Ray features (initially introduced on the Kindle) allowing you to use your smartphone or tablet to look up information about the show you are watching.
You can also "hand-off" what you are watching from your Fire TV to your Fire tablet to continue watching a show in a different room. The "fling" function also allows you send content from your tablet to your Fire TV.
While all these additional features are nice, I found I rarely used any of them (particularly as I don't own a Fire tablet).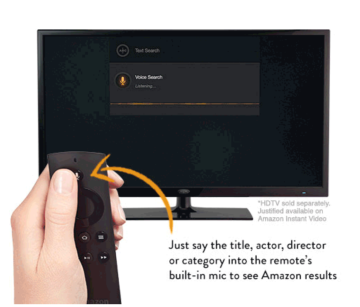 Fire TV: Voice Search
Using voice to control a smartphone is not something I will ever do, no matter how many products like Siri, Cortana, or Google Now are launched.
Therefore I was wary that voice search on the Fire TV through the remote control would also be a gimmick - but it's not, it's brilliant.
Using voice search on a crowded street makes you look crazy. Doing so in the safety of your living room doesn't.
Using a remote control to input text on your TV is tortuous and Amazon knew this.
It has created a simple and straightforward way to quickly and effectively find the content you want.
The microphone is activated by pressing a button on the remote and I found it to be accurate and responsive.
An additional benefit is that the remote communicated with the Fire TV via Bluetooth, so you don't have to point it at the set-top box for it to work.
Fire TV: Gaming
Amazon is pitching the Fire TV as a gaming device as well as a TV and film platform.
Now don't be fooled. This won't be replacing your PS4 or Xbox One but it does offer the ability to play high-end smartphone games on your big screen TV.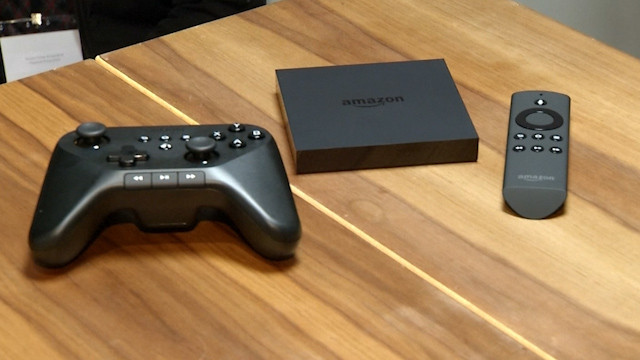 These range from the likes of Minecraft to the Asphalt 8 racing game, and all of the games I tried ran smoothly on the Fire TV.
Some of the games can be played with the supplied remote, but if you really want to take advantage of the games, then you will need to buy the dedicated gaming controller, which costs £40 - though at that price I'm not sure it's worth it.
Fire TV: Value and Verdict
At £79, the Fire TV is the same price as Apple TV but offers a lot more features for your money.
For those who already have an Amazon Prime membership, then the Fire TV makes a lot of sense. It is the easiest way to make the most of your Prime Instant Video subscription on a big screen - though if you have a PlayStation or Xbox, this benefit is negated somewhat as it is already available on these platforms.
Prime members also get the benefit of photo storage and Amazon's music streaming service, though as this is only available in the US, it's not much good to UK customers.
If you are not a Prime member, then the attraction of Fire TV is lessened.
You still get the great voice search, good looking interface and nice performance, but because content is king, the Fire TV doesn't offer enough to make people choose it over Google's Chromecast.
At £30 the Chromecast may not have a nice user interface, a remote control or voice search, but if all you want to do is get content like Netflix, iPlayer, and YouTube on your TV, this will do the job perfectly.
It seems Amazon knows this, as it launched the Fire TV Stick just last month. It's not available in the UK yet, but if you want that great interface and access to Prime Instant Video - and you want to save yourself a few pounds - it might be worth the wait.
Amazon Fire TV Review Scores:
Performance 10/10 - Buttery smooth thanks to the quad-core processor and 2GB of RAM.
Content 8/10 - For Prime members there is lots to choose from, and the inclusion of Netflix is key.
Value 8/10 - The £30 Chromecast is the value choice, but if you want voice search and a nice interface, then the Fire TV is decent value.
Design 9/10 - Not hugely important, but the set-top box is sleek and the remote is simple and well-designed - though a little on the plasticky side.
Overall 8/10 - Powerful, responsive, with great features like voice search and gaming, but unless you are a Prime member, the Chromecast remains the best choice.
The Good
Voice search works brilliantly.
Fast, smooth performance.
Lots of content - particularly for Prime members.
The Bad
More than twice the price of a Chromecast.