Amazon has been accused of promoting popular products by sellers, or itself, that are far more expensive than the exact same product being sold by other independent retailers on the website, to the extent that consumers are paying as much as 50% more for the same item.
Non-profit public service news publication ProPublica has carried out an investigation into Amazon's pricing tactics and is claiming that the online shopping giant's purchasing algorithms are deliberately promoting a version of frequently purchased products in the highlighted "Buy" box that make it seem as if Amazon has found the best deal, when, if you were to add the price of the product together to its shipping cost, the price is significantly higher.
IBTimes UK has carried out our own investigation on both Amazon UK and Amazon US, and we have found that there is no evidence of Amazon trying to push more expensive products over cheaper versions on Amazon UK – but it is likely that ProPublica's assertion about Amazon US is accurate to a certain extent.
Searching for products on Amazon UK
We logged into two Amazon UK accounts – one with a Prime membership and one without – and searched for a variety of products, ranging from DVDs, video games and perfume to popular and niche DIY products like super glue, silicone sealant, permanent foam wall adhesive pads and Worbla.
Amazon UK returned the same results for both accounts, and "more buying choices" were listed immediately under Amazon's highlighted price, appearing immediately in the search results. If you clicked the hyperlink and went to the product page, Amazon would usually offer the product in question with free UK shipping, fulfilled either by itself, or by an independent retailer.
A few lines down, below the dispatch information, Amazon UK provides a link that says something like, "15 new from £2.50". If you click this hyperlink, Amazon provides a list ordered by price, whereby the cheapest options are at the top, including postage, with gradually more expensive options listed from a variety of retailers as you go down the list.
We found no evidence that Amazon UK was trying to make us pay more money for any product, no matter how popular or expensive, and in some cases, when the product was niche, it would only list the seller that had the product. Because it was rare, the user would need to pay whatever the seller chose to charge for shipping.
Searching for products on Amazon US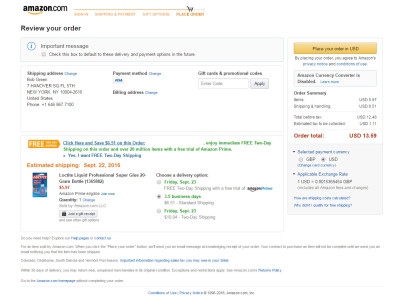 However, when it came to Amazon US, we had a completely different experience. We logged both accounts into Amazon US and proceeded to perform tests on the same products we searched for in the UK. There was no difference between the prices offered to Prime users and the prices offered to non-Prime users.
We tried to search for "Loctite super glue", which was the example used by ProPublica as evidence of Amazon pushing for consumers to spend more money. We found that ProPublica was accurate in their assessment, in this case.
Amazon US is designed differently to Amazon UK – when we searched for Loctite, the top result offered to us by Amazon was priced at $5.97, with an orange highlight bar proudly proclaiming the top result as a "Best Seller". If you click the hyperlink and go to the product page, Amazon US lists details about the product directly below the price, which states "$5.97 & FREE Shipping on orders over $49".
You have to read a good way down before you reach the hyperlink that says "61 new from $4.71". There is also a box on the right-hand side of the page offering other options, but they all seem to be more expensive if you look at the numbers alone. For instance, the retailer TheHardwareCityCO is offering the product for $6.75 + Free Shipping, and another retailer called Fat Boy Tools is selling Loctite for $7.27 + Free Shipping as well, just as ProPublica found.
Amazon US does downplay products from independent sellers
Who is more expensive - Amazon US or the retailer?
Fairytale Dress Up Barbie doll
Amazon US: $25.46
Independent retailer: $23.41
LEGO Star Wars: The Force Awakens playset
Amazon US: $139.09
Independent retailer: $144.15
PS4 + Call of Duty Black Ops III
Amazon US: $312.45
Independent retailer: $305.46
Roomba 650
Amazon US: $365.86
Independent retailer: $323.99
Anna Sui fragrant gift collection
Amazon US: $48.79
Independent retailer: $37.93
Black+Decker Drill
Amazon US: $56.88
Independent retailer: $40.19
LG 4K TV
Amazon US: $669.89
Independent retailer: $615.29
Loctite super glue
Amazon US: $13.59
Independent retailer: $5.43
So Amazon US has clearly told you that you only get free shipping if you're spending over $49 on the site, but you still have no idea what the actual total cost is until you checkout your purchase. After registering our accounts to our New York office, Amazon US finally revealed that while the Loctite glue cost $5.97, it was also going to charge us $6.51 in shipping and handling, which is more than the price of the product.
On top of that, we also had to pay tax to the amount of $1.11, so the total cost of the glue came to $13.59. Clearly, there is a problem here, but we're not sure just how great it is.
We don't have the full list of all 250 items that ProPublica searched for, but when we searched for other items, we found that the shipping charged by Amazon US wasn't anywhere near as bad as the markup on the super glue.
For instance, we tried to by a PS4 500GB bundle that included Call of Duty Black Ops III. Amazon US offered us the price of $279, and shipping came to $7.98, with taxes coming to another $25.47, so the total came to $312.45.
We then tried to buy the same product from the top listed independent retailer New Heights Product, priced at $297.48. This retailer absorbs tax, but also charges $7.98 for standard shipping, so the final price came to $305.46. So the product is more expensive, but in the end, due to absorbing tax, the price actually works out cheaper. However, it's still only a difference of just under $8, so while cheaper, we wouldn't necessarily class this is a rip-off.
We also tried to buy a LEGO Star Wars: The Force Awakens playset, a Barbie doll, a Black & Decker drill, an LG TV, a Roomba vacuum cleaner and an Anna Sui perfume set (all items that Amazon might not get a heavy discount on consignment, the way it does with books and CDs), and we found that the price difference between Amazon and the seller ranged vastly from between 2% and 50%, and in one case, the sellers' prices were all more expensive than Amazon.
The price difference is not consistently huge
We understand that there is always a concern giant retailers like Amazon don't have our best interests at heart, but it's not so straightforward as to simply say that Amazon is deliberately using computer algorithms to deliberately push its own products and make customers pay more. Some of this is happening, but not to such a great extent as the media might be making it out to be.
It is fairly normal for a retailer to push versions of the products that come from their own warehouses, and to downplay products from independent retailers. Although ProPublica may have found 250 products that all have a price difference of at least 20%, there are hundreds of thousands of products on the website, and our sample did not produce the same results.
Much as we'd like to take the consumer giant down a peg or two, from what we have seen, there is no evidence that Amazon UK is pushing or trying to trick consumers into buying items with a large markup in price, and insufficient evidence that this is definitely the case with Amazon US.