Amazon's aggressive spending strategy has seen sales growth by 34 percent in the first quarter of 2012, withthe Kindle Fire holding over 50 percent of the Android tablet market, but this aggeressive spending has led to profits dropping by 35 percent in the same period.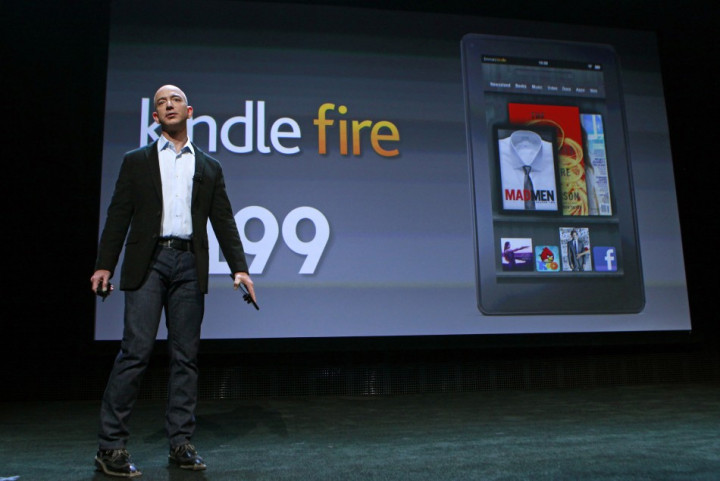 Jeff Bezos, CEO and founder of Amazon, has reported $13.18 billion (£8.15bn) net sales for the online retail giant which represents a 34 percent increase over the same period in 2011. However Bezos also reported that profit was down by 35 percent to $130m in the quarter, compared to $210m in the same period last year.
While the drop in net income will worry some, the results were ahead of Wall Street predictions and were a positive for Amazon following a relatively disappointing previous quarter. The drop in profits was down to aggressive spending as the company continues the expansion of its business.
According to Stifel Nicolaus analyst Jordan Rohan, Amazon, which has been spending heavily on expansion, is starting to get a grip on costs. The earnings have "something for everyone; growth and margins to satisfy investors", he told the BBC.
Amazon is predicting sales growth of between 20 and 34 percent in the second quarter but is also expecting profit to decline somewhere between 230 percent and 80 percent.
The Amazon Kindle Fire remains the bestselling, most gifted, and most wished for product on Amazon.com since launch late last year. In the first quarter, nine out of 10 of the top sellers on Amazon.com were digital products - Kindle, Kindle books, movies, music and apps.
"I'm excited to announce that we now have more than 130,000 new, in-copyright books that are exclusive to the Kindle Store -you won't find them anywhere else. They include many of our top bestsellers, in fact, 16 of our top 100 bestselling titles are exclusive to our store," said Bezos.
According to figures released by comScore today, the 7in Kindle Fire has been a huge success since launching in late 2011 and it now accounts for 54.4 percent of all Android tablets sold in the US. While the Kindle Fire is not available yet outside the US, rumours suggest two new versions of the tablet will be launched soon, including a 10.1in model.
While the Kindle Fire is based on the Android operating system, it has been heavily customised by Amazon and users don't have access to the Google Play store, instead buying content including movies, games, apps and books from the Amazon Appstore.
Google is rumoured to be launching a similarly price tablet of its own, called the Google Nexus Tablet, manufactured by Asus in the next couple of months, as it struggles to compete in the tablet market, where the iPad still continues to dominate.
In an earnings call following the announcement of the financial results, Amazon CFO Tom Szkutak was evasive when asked if the Kindle Fire would be launching outside the US, simply saying: "You know, I really can't help you. Stay tuned."
Szkutak did however say that the recent lawsuit filed against Apple and five big book publishers by the US Justice Department had helped Amazon: "We do think that the suit was big win for Kindle owners. We look forward to being allowed to lower prices for more Kindle books."