America divided as Donald Trump wins historic US election
Republican candidate's support came mostly from angry white voters.
Donald Trump has sent shock waves across the world, sweeping to an unprecedented victory in the US election. The 70-year-old billionaire defeated his bitter rival Hillary Clinton after a ugly campaign that was dogged at every turn by racism, bigotry and scandal.
A political outsider who alienated Republicans as well as Democrats during his campaign for the nomination and then the White House, Trump demolished Clinton in key swing states including Florida, North Carolina and Ohio, in which he won 52.2% of the vote to her 43.3%.
In his acceptance speech, Trump struck a conciliatory tone, congratulating his rival for her campaign and her service and pledging to "put America back together again."
Despite early hopes that Clinton had a chance of winning Florida and, at one point, even Texas, Trump seized both states and their joint 29 and 38 electoral college votes early in what was a dramatic and historic night for American politics. He went on to take Iowa from Clinton with a huge 10.1% margin.
On the eve of the election FiveThirtyEight gave the former secretary of state a 68.5% chance of winning the election over Trump's 31.5%. Reuters put Clinton's odds at 90% ahead of the vote.
But even as a Trump victory appeared inevitable, Clinton had hope she could win key states such as Michigan, New Hampshire and Wisconsin. Despite late wins in Nevada and Minnesota the Democratic candidate could not get to the 270 electoral college votes she needed for the presidency.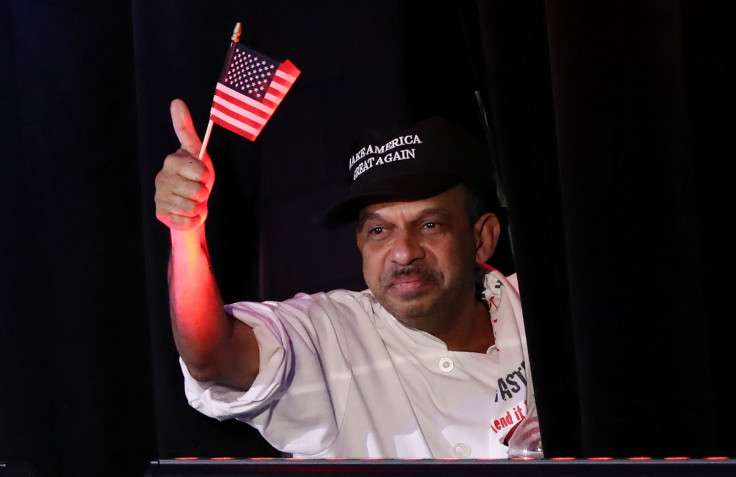 Trump's unprecedented success came after a bitter and divisive campaign, during which he verbally abused his rivals, insulted the family of a deceased war hero, demanded for Clinton to be jailed and was accused of a string of sexual assaults that led prominent Republicans to disown his campaign.
He has no political background and had never run for political office when he opted to enter the race for the Republican nomination in June 2015.
The night was not only a disaster for Clinton, thwarted in her second – and likely her last – attempt at securing the presidency, but for the Democrats as a whole. The Republicans won control of both the House and the Senate, allowing them to push forward their legislative programme.
Clinton's campaign was harmed by third party votes, including those for Libertarian Gary Johnson and Green Party candidate Jill Stein. In Florida, Stein and Johnson won over 250,000 votes, more than what she needed to beat Trump. Clinton would have won Pennsylvania, a key battleground state, if Stein supporters had given their vote to her.
The result has shone a light on the deep division in American between wealthy elites, which Clinton is believed to represent by many, and the white working poor that suffered so acutely during and after the financial crisis. In district after district, it was rural communities that opted for Trump's protectionist and anti-immigration message.
Trump will also look to fill the Supreme Court vacancy left by the death of Justice Antonin Scalia, ensuring a conservative majority in the high court and allowing Republicans to push back on gay marriage, women's reproductive rights and the Affordable Care Act.
Alastair Campbell, a British strategist and for director of communications and strategy for former Prime Minister Tony Blair, said that it was difficult to see how a divisive leader such as Trump would heal the obvious divisions in American society that his success had exposed.
"Now that Trump has won, the world holds its breath even more nervously. From world trade to climate change, from the future of Nato to the war on Islamic terrorism, some very big issues that impact upon us all have tilted somewhat on their axis," Campbell wrote in a column for IBTimesUK.
The world financial markets reacted early on Wednesday as Trump's victory began to look likely ,with gold prices spiking and Asian markets opening lower. The dollar fell as much as 3.5% against the yen, the worst one-day decline since Brexit.
© Copyright IBTimes 2023. All rights reserved.