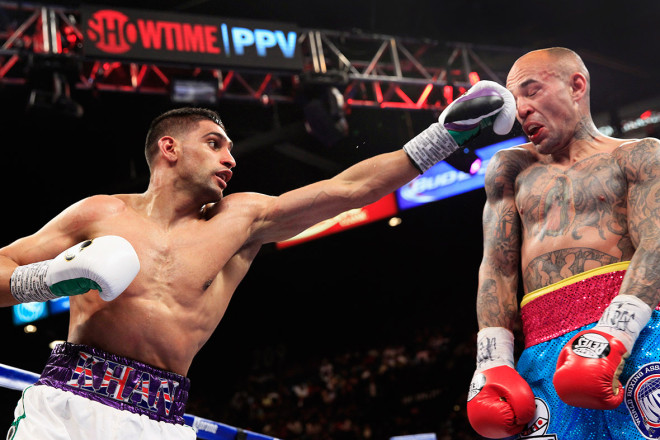 Amir Khan fears an eagerly anticipated fight with Floyd Mayweather Jr is in danger of falling by the wayside, suggesting the five weight world champion is ducking his challenge.
The Bolton-born fighter impressively dispatched Luis Collazo on the undercard of Mayweather's victory over Marcos Maidana earlier this month to solidify his challenge to dethrone the unbeaten American.
Khan was passed over in favour of Maidana despite having won an online poll ahead of the Argentine and the 27-year-old fears history could repeat itself should a resolution not be met soon.
Mayweather's May-September fight cycle conflicts with the timing of Ramadan, which prevents Khan from immersing himself fully in training until late July. With a May 2015 date now likely to be the next available slot the Brit is unsure of whether he will get his chance to test himself against the best pound for pound fighter in the sport.
"I think time might be running out," Khan was quoted as saying by Boxing Scene. "You always fear a little bit that the fight may not happen, but then I think to myself that at least the world knows I wanted it to happen.
"It's a fight I really want and if it never happens I'll be upset because he is the best out there. If he's not ready or confident then the fight isn't going to happen. Even if the world says fight Amir Khan next, if he says 'no', then it won't happen. "
Meanwhile, Khan's trainer Virgil Hunter believes next May presents Khan's best opportunity to consign Mayweather to a first ever career defeat and is confident the would-be challenger will be ready for the task at hand.
"I'm confident now. My personal goal is next May, if we keep doing what we are doing, we will win that fight," Huntet told Boxing News.
"I don't think he wants to fight in September anyway, he's got us waiting for him in October or November. I'm gonna have Amir come to another camp before Ramadan and as soon as Ramadan is over, another one. Whether he has a fight on the books or not, you have to be prepared. I'm really excited about him because he fits my style of teaching."