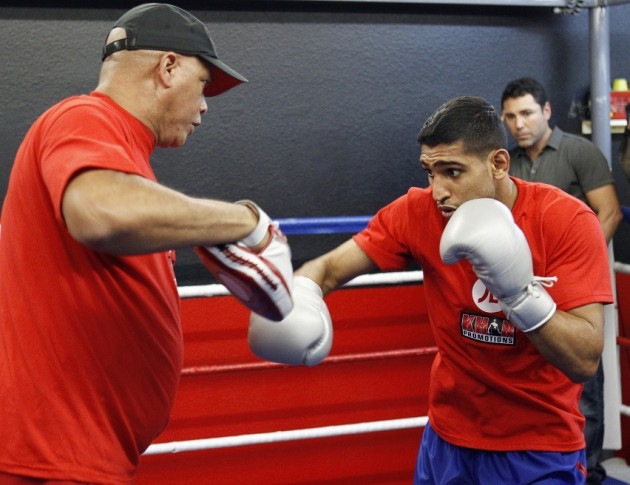 Amir Khan is hoping to finally reach an agreement with IBF welterweight champion Devon Alexander to face the American later this year as he eyes a blockbuster bout with pound-for-pound king Floyd Mayweather in the near future.
The former two-weight world champion is scheduled to return to the ring on 7 December and Alexander has been earmarked as the most likely opponent for Khan's first fight at welterweight.
Negotiations have been underway for several weeks with Khan's management team keen to have the fight take place in Dubai. However, Alexander prefers that the bout take place in America unless a massive offer is made.
Now it seems the most likely location will be the United States as Khan is desperate to prove his talent at 147lbs.
"We are looking at December 7 for my next fight and looking at opponents," said Khan. "I have tried to get Devon Alexander. It was looking promising.
"He said he wanted to fight at the start and now it slowly seems that he is not 100 per cent sure about it, coming up with excuses. Even if it's not in Dubai, I will fight him in America, I will fight him wherever."
The 26 year old is determined to earn a big money fight with Mayweather and knows that be defeating Alexander he would be back on the undefeated American's radar.
Mayweather faces Mexican sensation Saul Alvarez in September but will be looking for an opponent for May the following year when it is believed he will be back in action.
Khan is spending more time out in the United States working closely with trainer Virgil Hunter and it seems he believes he is working towards a showdown with Mayweather.
"It's all about moving to that big fight against Floyd Mayweather," added Khan. "Hopefully getting this win against Alexander will get me into that fight. We are going back and forth to America and doing mini camps but I'm trying to spend more time there.
"This time I'll be there for 15 weeks rather than rushing into training straight away for eight weeks. I can build into it."
Should Khan defeat Alexander then he will be scheduled to face mandatory challenger Kell Brook within 90 days or else he could relinquish the belt if he feels it makes more sense to secure another higher-profile opponent.