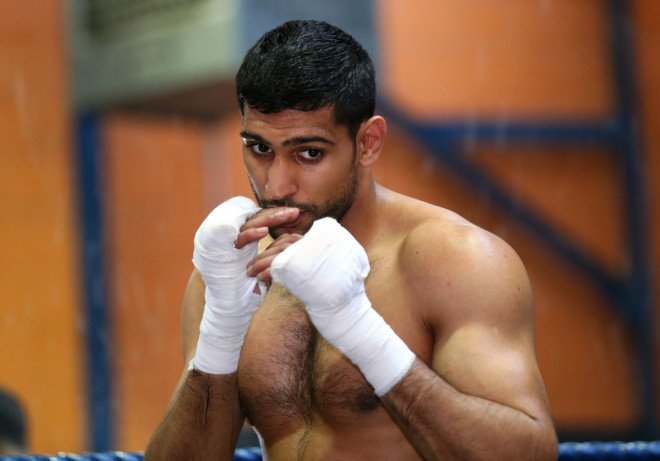 Amir Khan will use his Saturday showdown with Luis Collazo to demonstrate how much he has improved in the ring 12 months on from his last fight.
Khan had hoped May would bring a meeting with Floyd Mayweather Jr but the Bolton-born fighter has settled for a spot on the undercard with Argentine powerhouse Marcos Maidana attempting to dethrone the unbeaten American.
Saturday will mark Khan's first fight since an unconvincing win over Julio Diaz in Sheffield last April after a bout with Devon Alexander was shelved last December as the former unified light welterweight world champion focused his efforts on striking a deal with the Mayweather camp.
But Khan believes that time out of the spotlight spent with his trainer Virgil Hunter in San Francisco has provided him with the telling advantage required to beat his opponent in Las Vegas on Saturday.
"Over the last 12 months I've been in camps with Virgil and we've been working on certain aspects of my game that I never really got the chance to work on because I just didn't get the time as I was fighting so often," Khan said.
"Through the last few months I've been focusing on improving myself and adding certain things to my game. Because I didn't have an opponent lined up and I wasn't fighting I had the time to look at myself and work on things I wanted to work on.
"On May 3rd I'm going to put that all into practice on the biggest stage and not only beat Collazo but look to beat him in real style," said Khan.
As the build up to Saturday's card continues to build talk of an eventual meeting between Khan and Mayweather is unlikely to dissipate. His recent deal with promoter Al Haymon is likely to further fuel speculation but the Brit insists his focus remains solely on Collazo.
"I'm not thinking about other possible fights, my mind and my attention is solely on Luis Collazo," he continued. "To overlook him would be foolish, he needs to be respected and I give him that respect.
"I don't know what the future holds for me, all I know is I have to get through Luis Collazo to see what that might be. It's a tough fight but one I'm ready for and very confident about.
"I can't wait to get in the ring on Saturday because it's been so long - I wish it was tomorrow."