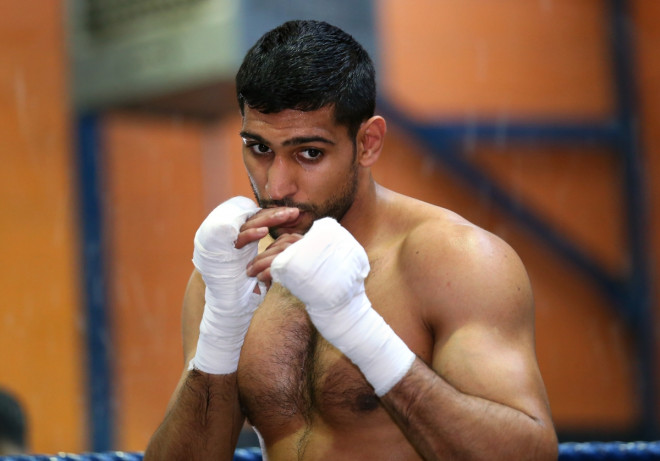 Amir Khan hopes a dominant victory on his welterweight debut against Luis Collazo will convince Floyd Mayweather Jr into agreeing to a bout later in 2014.
Khan faces Puerto Rican Collazo in his first fight for over a year on the undercard of Mayweather Jr's return to the ring against Marcos Maidana, who was chosen ahead of the Brit as the unbeaten super welterweight's next opponent.
The 27 year old was left frustrated after being overlooked by Mayweather but continues to harbour hopes of securing a money-spinning meeting and is targeting a thrilling win on 3 May in order to force the American's hand.
"I want the world to see me putting the pressure on with a good performance. I want to steal the show," Khan said.
"With the styles me and Collazo have, we can definitely do that because both of us will come to fight and it's a genuine bout that can go either way if I am not at the top of my game.
"Adrien Broner is also on the bill, but he will walk through his opponent Carlos Molina. And is there anyone out there who really fancies Maidana to beat Mayweather in what is the top of the bill?
"Fans know my bout is genuinely competitive," he added. "They know I am willing to face anyone at any time and that I don't swerve anything.
"By showing my skill and strengths, I believe it can force Mayweather to finally fight me near the end of his career because it will be a fight that fans call for."
Khan originally prevailed in an online vote to decide Mayweather Jr's next opponent ahead of Maidana before a deal fell through which sees the WBA welterweight champion take centre stage in Las Vegas.
Though Khan has wins on his career CV against Paulie Malignaggi and Zab Judah, Collazao is hoping to take advantage of his opponent's inexperience at welterweight.
"Styles make fights," he said. "He's moving up to the welterweight division and it's different from 140-pounders.
"Zab is really a 140-pounder. He's not a natural welterweight and although Amir Khan is big in size let's see how he does in the welterweight division.
"I'm going to welcome him with open arms. I'm going to welcome him to the welterweight division come May 3."