Amir Khan's rematch with Lamont Peterson is in doubt after the American tested positive for a banned substance.
The rematch set for 19 May could now be cancelled after the 28-year-old gave a urine sample which tested positive for synthetic testosterone.
Both fighters had agreed to be randomly tested for blood and urine by the Voluntary Anti-Doping Association ahead of the contest later this month, which is now shrouded with uncertainty.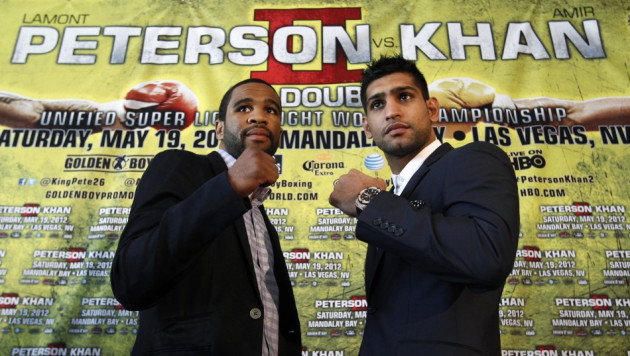 Peterson's publicist, Andre Johnson said: "We have tremendous respect for VADA and its mission. Lamont, Barry and the entire team emphatically support random drug testing in the most comprehensive manner possible.
"We are working expeditiously with a team of pathologists and other medical specialists to confirm the origin of the test result and in full compliance with the rules of the Nevada State Athletic Commission.
"Lamont has never had a positive test either before or after this isolated occurrence, and we plan to submit medical findings by close of business Tuesday reflecting the actual facts in support of Lamont's good faith intentions and the requirements of the commission."
The incident is the latest high profile chapter in the rivalry between Khan and Peterson, which began in December last year when the Washington-born boxer won the World Boxing Association and International Boxing Federation Light Welterweight titles from the Brit during a controversy-laden clash on a split decision.
However, the WBA commissioned a rematch in Las Vegas following questions over the decision making of referee Joseph Cooper, while the ringside appearance of Mustafa Ameen, who is alleged to have distracted scorer Michael Welsh during the contest, has also been scrutinised.
Khan's business manager Asif Vali said: "It was a shock when I received the call to say Lamont had failed a drug test.
"However, the Peterson team seem to think that something's gone wrong during the very first Vada drug test which Lamont took in March.
"Their explanation is that it's something he took earlier on in the year - before the last fight.
"The fight's on. The Nevada commission will come back to us with their findings. That decision is due to come to us by the end of play on Tuesday."