Amir Khan Repeats Challenge to Floyd Mayweather: 'I Will Beat Him'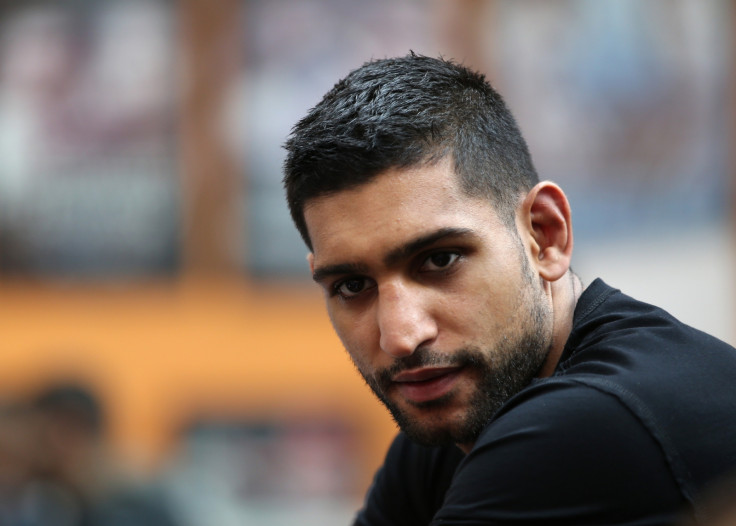 Britain's Amir Khan continues to harbour hopes of clinching a career-defining fight with either Floyd Mayweather Jr or Manny Pacquiao after repeating his challenge to the Welterweight World Champions.
Mayweather Jr's unbeaten record was extended to 47 bouts after the American prevailed via a unanimous points decision in his rematch with Argentine Marcos Maidana on Saturday to retain the WBA and WBC welterweight titles.
Pacquiao, the WBO champion, faces Chris Algieri on 22 November while both fighters are seemingly also keen on a much-anticipated meeting themselves following years of speculation.
Now Khan has challenged Mayweather, who has declared his decision to retire following two more fights in 2015, after he sat ringside to watch the 37-year-old edge to victory over Maidana in unconvincing fashion.
"After seeing Floyd Mayweather win today I believe I will beat him," he wrote on Twitter. "Floyd as we all know isn't the biggest puncher. His foot work has slowed down and [he] only throws single punches and gets hit a lot more.
"Now it makes sense why the fight isn't happening between me and Mayweather. Is he afraid of the speed, explosiveness and power? Floyd let's get it on!"
Khan is understood to be in negotiations to face new IBF world champion Kell Brook in an all-British fight in 2015, with chief promoter Eddie Hearn claiming he doesn't think a fight with Mayweather will ever happen.
Unperturbed by Hearn's scepticism, Khan has outlined how he would end Mayweather's unbeaten record should he succeed in securing a meeting next year.
"I know it is different when you're watching from outside but I saw a lot of flaws," he told iFilmLondon TV. "There were times in the fight where I was thinking 'if that were me I'd be in with a chance'. Maidana was catching him with shots.
"Financially it would make sense, we're both big names. It would be a massive fight. When it comes to boxing I don't think anyone can beat me. I've been knocked out a few times, but when it comes to a technical game of chess there is no one out there, who can beat me.
"I don't want to sound like I am disrespecting Floyd Mayweather but my style would give him a lot of problems. I really think Floyd's team know they are going to have a lot of problems with someone like me.
"His work rate is not there, the movement is not there either. He was getting shots and his legs were wobbling. Floyd's an old guy now, he has had a lot of tough fights but he wasn't happy that things weren't going his way.
"I would love that fight against Manny Pacquiao and I'd offer that fight to them as well, 100%. Pacquiao, [Juan Manuel] Marquez, [Timothy] Bradley, I have tried to get, I couldn't get [them] then you've got Mayweather, who just stands out."
© Copyright IBTimes 2023. All rights reserved.