Amir Khan has targeted a number of big names in the welterweight division that he would like to face after his clash with Phil Lo Greco.
The Pakistani-Briton will make his highly-anticipated return to action for the first time since getting knocked out by Canelo Alvarez in May 2016 when he takes on Lo Greco on 21 April in Liverpool.
The standout names he is looking at in the long-term though, are domestic rival Kell Brook and former eight-division champion Manny Pacquiao.
Khan would also like a rematch with Danny Garcia and potential fights with title-holders Jeff Horn and Keith Thurman.
"We've got super fights like Kell Brook, you've got Manny Pacquiao," Khan told Sky Sports.
"There's some big names in the welterweight division - the rematch with Danny Garcia. We're also looking at Jeff Horn, and Keith Thurman is probably one of the best fighters in the welterweight division.
"All of these guys are calling me and want the fight as well. There's some big exciting names in this division and I think I definitely want to be among them."
A fight with Brook has long been anticipated and could finally happen now that Khan has joined the former under Eddie Hearn's Matchroom banner.
Meanwhile, the 31-year-old was due to face Pacquiao last year only for the latter to face Horn instead. The duo recently mocked each other on Twitter following Horn's first title defence against Gary Corcoran.
However, Khan will have to get past Lo Greco first, who has succeeded in winding up the former welterweight champion in recent weeks.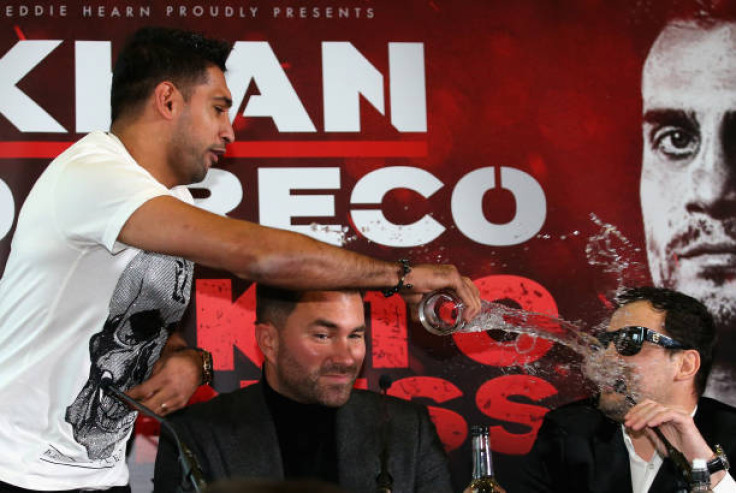 In their pre-fight press conference, Khan notably hurled a glass of water at "The Italian Sensation" after he made provocative comments about his personal life.
"My first move is to get past Lo Greco and then go on to bigger fights," Khan added. "He just gets me a little bit angry at times, he makes me train hard and want to beat him, beat him in great style as well.
"Let's just stay focused and stay very calm for the fight on the 21st."