Twelve months ago the world was at the feet of Amir Khan. With the WBA and IBF light-welterweight titles proudly around his waist, he firmly believed that he belonged to be mentioned in the same breath as Manny Pacquiao and Floyd Mayweather.
Victories over Paulie Malignaggi, Marcos Maidana and Zab Judah had made him a must see attraction in the United States. Fighting in the boxing meccas of Madison Square Gardens and Mandalay Bay, Khan was seemingly on a path to the very top.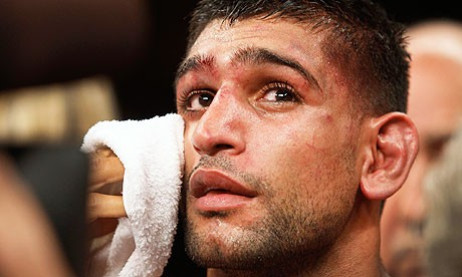 How quickly things can change in boxing. A controversial loss to Lamont Peterson was blamed on poor refereeing and the presence of a mystery man in a hat. A rematch was duly granted, but when the American failed a drugs test, there was another legitimate reason for Khan to question the result of the first bout.
However, the flaws had been there to see. Not just in the Peterson fight, but most candidly in the war against Maidana. Be it bravery or bravado, Khan decides to engage at the wrong times. When visibly hurt he calls his opponent forward, rather than relying on his speed and footwork.
It is a failing which makes him one of the most exciting fighters on the planet to watch. It also cost him the WBC and WBA light-welterweight titles against Danny Garcia. The man from California was undefeated in his previous 23 fights, but was considered to lack the boxing ability of Khan.
He may not have been able to match the reflexes or speed of Khan, but he brought a good chin, and a left hand which is capable of stopping a fight with one punch. The Brit knew to be weary of the left-hook, yet he walked right on to that exact punch when on the offensive.
His mind scrambled, he once again attempted to call Garcia's bluff by banging his hands together and urging him forward. Twice more he was knocked down and Kenny Bayliss was forced to call an end to proceedings.
Khan now finds himself with three losses on his record and little possibility of challenging the biggest names in the 140 and 147lb weight divisions. He has split with trainer Freddie Roach and now looks to get his career back on track.
At 25-year-old, time is on his side. He rarely gets out of fighting shape and has not had a long, tough career. What he needs is someone capable of changing his mind set in a fight. His first thought should be how to survive and clear his head. Perhaps the man to make this change is Virgil Hunter.
The trainer is perhaps best known for guiding Andre Ward to becoming the king of the super-middleweight division after winning the Super Six tournament and claiming the WBA and WBC titles.
He is known for teaching his fighters defensive skills and it is clear that he can mould fighters with real talent. We all know that Khan possesses the tools in attack, what he needs is someone who can drill in to him the importance in not shipping punches.
Ward has been criticised for making fights ugly, but Khan could benefit from doing the same. He doesn't have the chin to stay on the inside throwing flurries of punches and needs instructions as to how to initiate attacks and then retreat.
If Khan can come back from his latest disappointments and learn from Hunter then there is no reason why he cannot remain a must see fighter in the light-welterweight [and welterweight] division.