Amir Khan Will Not Fight Adrien Broner on Mayweather-Maidana Undercard, Hunter Confirms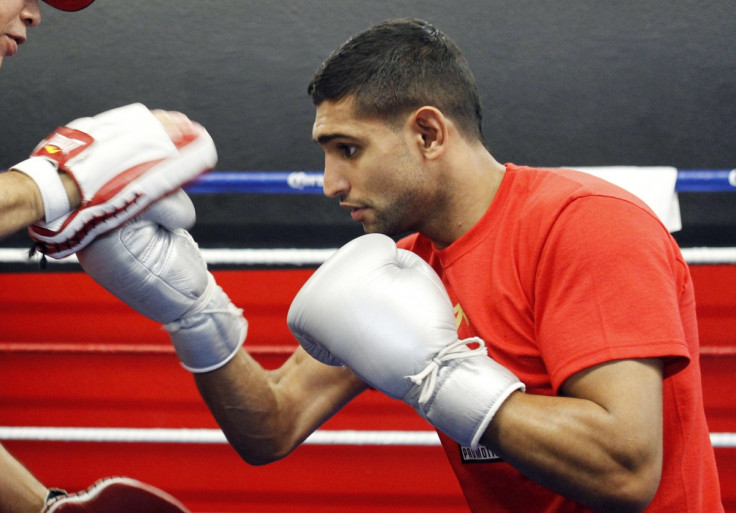 Amir Khan's trainer Virgin Hunter has confirmed the Brit will not face Adrien Broner on the under card of Floyd Mayweather's May meeting with Marcos Maidana.
The Bolton-born fighter was left bitterly disappointed when Mayweather selected Maidana for his big-money showdown in Las Vegas, despite winning an online poll to determine the American's next opponent.
Khan hit back at Mayweather's decision but the five weight world champion responded by suggesting an eliminator fight between the Brit and Broner, who had his undefeated run ended by Argentine Maidana last December.
However, Khan's trainer has claimed there is no fight in place, but has promised UK fight fans something even better will be announced soon.
"I can tell you this it won't be Adrien Broner, I can say that it will not be Adrien Broner," Hunter told Sky Sports News. "People talk a lot in this business but I can assure you it won't be Adrien Broner.
"I'm not at liberty to (say more). This is a business and out of courtesy to my whole team, I don't think it would be right.
"But I think you'll be happy in the next few days when you get clarity on the whole situation. I'm not at liberty to speak about it but I think in the next few days it will become apparent why it is a blessing in disguise.
"I'll be in England next week to continue his training. He will be fighting within a period of 8-10 weeks so we're happy about that."
Khan has not stepped in the ring since his unconvincing win over Julio Diaz last April. The 27-year-old was scheduled to take on Devon Alexander last December but the fight was shelved as he and his team pushed for the then-proposed Mayweather fight.
The former two time world champion appeared keen on a meeting with Broner after learning of Mayweather's decision.
"A few names have been put to me - even someone like Broner would be a great fight for me," Khan said last month.
"The fight would probably be in America and possibly be on a Floyd card as well. But I have a contract with Showtime, so I have my own television deal in the US.
"More than likely the fight will probably be in America. There are a few names, I'm going to sit down with Golden Boy and my team.
"I want to fight the top names in the division - I want to cement my place there."
© Copyright IBTimes 2023. All rights reserved.