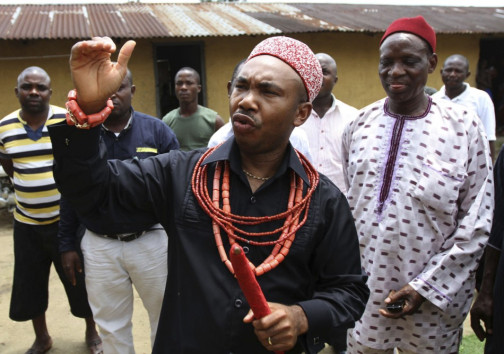 Shell's failure to clean up two oil spills in the Niger Delta in 2008 has caused huge suffering to locals whose fisheries and farmland were poisoned, and the company must pay an initial $1 billion to set up a mop up fund, Amnesty International said on Thursday.
In August and December 2008, two major oil spills disrupted the lives of the 69,000 or so people living in Bodo, a town in Ogoniland in the Niger Delta. Both spills continued for weeks before they were stopped. "Three years on, the prolonged failure of the Shell Petroleum Development Company of Nigeria (Shell), a subsidiary of Royal Dutch Shell, to clean up the oil that was spilled, continues to have catastrophic consequences for the Bodo community," Amnesty said.
The UN Environment Programme has found out that it would take more than 25 years for Ogoniland to recover. The UN recommended setting up an Environmental Restoration Fund with an initial amount of US$1 billion, with further funding to follow. Amnesty has released a report on Thursday, which marks the 16th anniversary of the execution of environmental activist Ken Saro Wiwa by Nigerian authorities.
Shell claimed that their efforts to undertake clean-up in Bodo have been hampered by the impact of sabotage and bunkering spills. Oil is often spilled during sabotage attacks on facilities and bunkering - tapping pipelines to steal crude. The firm said 150,000 barrels of oil are stolen each day in the Delta.
But Amnesty strongly challenges this premise. "It is utterly untenable and not true," Audrey Gaughran, Director of Global Issues at Amnesty International, told the IBTimes. "The idea of not cleaning two spills for three years because of the criminal activity is simply ridiculous and even the Nigerian government has raised this argument with Shell."
She argued that the oil company appears to be using sabotage as an "excuse" for its failures to comply with Nigerian law and regulations - which require the company to promptly clean up and pay compensation. "They cannot keep blaming bunkering in the area for their own fault," she said. "In 2008, 2009 and 2010 what was the excuse for not cleaning up?"
Amnesty disputes Shell's claims that most oil spills are caused by sabotage. "How do we know that?" asks Gaughran. "Investigations on damages are done by Shell, so there is no independent view on that. In another case, Amnesty handed a video footage to Shell clearly showing that problems to the pipeline were due to an equipment failure. "
Despite that, Shell called on Amnesty to join them in addressing criminal activity in the area. "If Amnesty really wanted to make a difference ... it would join with us in calling for more action to address this criminal activity, which is responsible for the majority of spill," Shell spokesman Precious Okolobo told Reuters. He added that Shell recognises that the two spills in 2008 were caused by operational issues.
However, Amnesty declined the offer, claiming that they have already condemned criminal activities in the area "It's another excuse," said Gaughran. "Shell wants to remove the spotlight from them for their failure to clean up the area."
When Amnesty International asked Shell to comment on the failures at Bodo, the company stated that, as the Bodo spill spills were subject to legal proceedings in the UK, it was unable to respond as directly
"This is a pure nonsense," said Gaughran. "We will be very strong on that: it's outrageous. Legal proceedings in the UK started in 2011. What's the excuse for their failure on previous years?"
Shell's first offer to Bodo communities after massive spills was 50 bags of rice, beans, sugar and tomatoes, something that was considered "insulting" by Amnesty and the people living in the area.