World Chess Championship 2013 Game 8, Anand v Carlsen: Where to Watch Live and Preview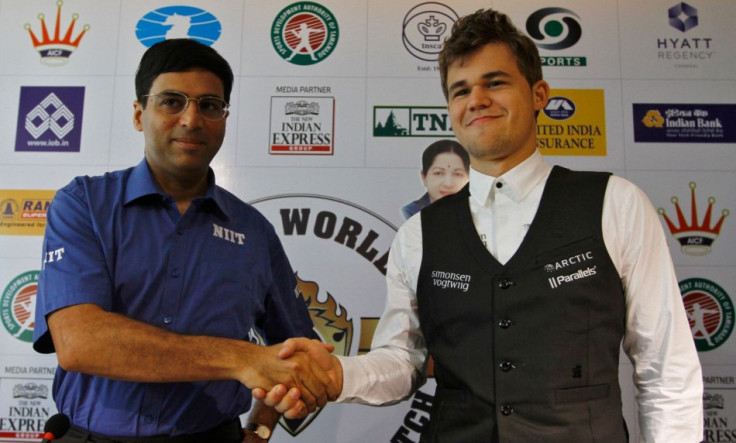 Round 8 of the World chess championship between defending champion Viswanathan Anand and World No 1 Magnus Carlsen will take place at Hyatt Regency Chennai, India, on Tuesday.
Where to Watch Live
Play starts at 9:30am GMT. Live coverage of Game 8 will be available on the official FIDE website.
Overview
The Grandmaster avoided defeat in Game 7 against the World No 1 on Monday. The result in the previous round has kept Anand's hope of retaining the title alive, while the pressure is still on the Indian as a draw has helped the challenger inch closer to the crown.
The game on Monday ended in a draw as both Anand and Carlsen did not push for a win, resulting in sharing half a point each. The game saw 32 move.
Dissecting Anand's game on Monday, chess legend Garry Kasparov said the Indian wanted "to avoid a loss at all costs" as that would have ended the match completely.
Now, Anand will be hauled over the coals in the crucial Game 8 as a sound showing in it is extremely critical if the 43-year-old wants to make a comeback in the competition.
The Norwegian lead the local veteran 4.5-2.5 after seven rounds and still holds a two point lead over Anand. However, the draw in Game 7 would be a psychological boost to the Indian as he will be looking for a win on Tuesday.
A win for Anand in Game 8 would reduce the gap, but failing to do so could likely see the Grandmaster losing his grip on the World championship title, which he has held for five years. Game 5 and Game 6 went in Carlsen's favour as the 22-year-old won both the rounds due to Anand's mistakes.
The remaining matches take place from today to 26 November. If the match remains tied after Game 12 on the final day, tie-break games will be played on 28 November. Meanwhile, there would be rest days after Game 8, 10 and 11.
What They Say
Viswanathan Anand: "I chose a line that both of us had played quite a bit in the past. 6.Nbd2 He went for Bg4 instead. Then you get a slow kind of manoeuvring game after the next three moves. White has two plans, which is, one is to play f4 and the other like in the game which is to play on the h-file."
Magnus Carlsen: "Not so much more than what he said. We played this line many different times. Whatever you play it really goes slow. I thought I was doing more or less fine. Just little bit worse, but nothing real. I thought the key here after g3, a5 is that f4 can be met by f5 and everything goes out."
What Experts Say:
Garry Kasparov: "Anand wanting to avoid a loss at all costs was understandable, since that would end the match completely. But now only two whites left. No, not really. Can't say about next games but clear Anand didn't want to fight today. You take on e3 with the pawn if you want to play."
Susan Polgar: "Chess has all the drama and excitement to be a spectator sport. I believe that with a slight change in format it could be made a major spectator sport, fit for playing in a big stadium and not in hotels."
Also Read
Game 7 Review Here:
Game 6 Review Here:
© Copyright IBTimes 2023. All rights reserved.