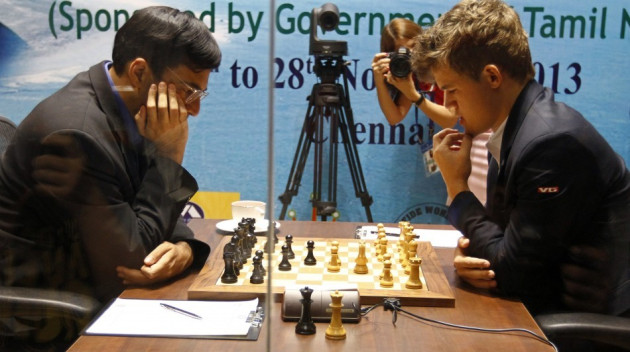 Read Game 8 Preview Here
Defending champion Viswanathan Anand avoided defeat against challenger Magnus Carlsen in Game 7 of the 2013 World Chess Championship as the Grandmaster, playing with white pieces, forced a draw with the World Number 1 at Hyatt Regency Chennai, India.
The latest result has seen the Indian trailing the 22-year-old by two points as the final score 4.5-2.5 is in the Norwegian's favour. Anand suffered defeat in Game 5 and Game 6 after the first four rounds of the competition saw the same result as that of Game 7.
Anand had a good opening and middle game, while he managed to avoid the mistakes made in Game 6 and Game 7. With all four rooks out of the board, the game was likely to end in a draw before both Anand and Carlsen shook hands after the 32nd move.
Despite a draw in the crucial game, the pressure is still on the Grandmaster to win Game 8 in order to make a comeback in the competition and retain his title. It is for the first time the Indian has lost two games in a row in the World championship since 1995.
The draw in Game 7 could likely be a psychological advantage for Anand as he would be looking to make a comeback in the remaining five games left in the competition. However, the result on Monday has taken Carlsen one step closer to the Championship title.
Anand, who was looking for exchange brought an endgame as Carlsen, along with the Grandmaster, was likely looking for a draw.
Anand is yet to break Carlsen's defence in the 2013 World chess championship as the World No 1 maintains his two-point lead over the Indian Grandmaster. The Game 8 will take place on Tuesday and the defending champion would be looking for his first win over the Norwegian.
Read Game 6 Review Here.