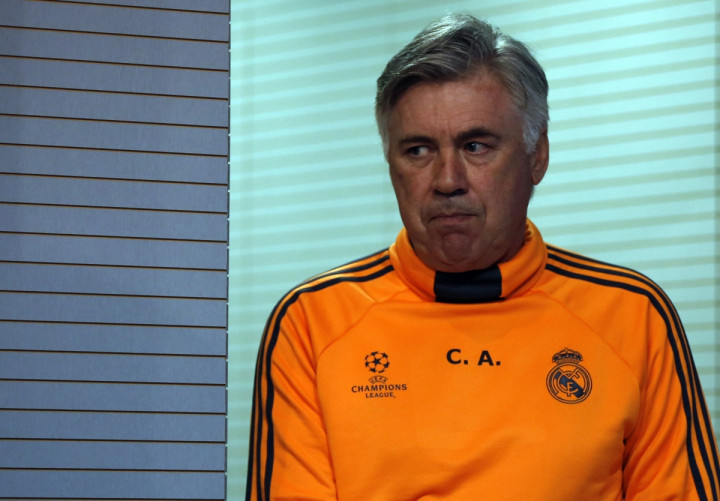 Real Madrid manager Carlo Ancelotti has claimed the Spanish giants sold Angel Di Maria to Manchester United this summer due to the player's high salary demands.
The Argentinian international was a crucial asset for Ancelotti during last season in their run to both the Copa del Rey and the Champions League victories.
Even though many Real Madrid supporters urged the club to keep their star, the Spanish giants agreed to sell him to Louis van Gaal's side for a record £59.7m fee.
Di Maria then explained he did not feel rated highly enough at Real Madrid while hinting at a poor relationship with club President Florentino Perez.
But when asked during an interview with Cadena Cope about the real reasons behind his exit, Ancelotti said: "Di Maria asked for a lot of money and preferred to leave to go find it."
"I was in agreement with the club. There are times when the club needs to say no. You can't change the policies of the club for one player. The club couldn't give him the money he wanted. They say that I'm the manager of the club; of course, I coach for the club, not for the players," he said.
With Real Madrid struggling to find the balance during the start of the season and Di Maria excelling at Old Trafford, Spanish pundits keep questioning the Argentinians exit.
But Ancelotti insists the Spanish giants have enough talent to cope with his absence.
"The start of the season was a bit difficult, we had problems in the pre-season, we didn't have enough time to properly prepare. Now, our fitness is very good because we've used this part of the season to train.
"The team is the same as last year because we may have changed one player but other great players have come in their place. Because of their high level of quality, nothing's really changed."
Meanwhile, the manager has lavished praise on Cristiano Ronaldo although refused to say whether he is the best all time player.
"It's difficult to say if Cristiano is the best of all-time because times have changed, the technique...right now he's the best in the world. You can't compare him with Pele or Maradona," he said.
"It's hard to say if Cristiano is the best I've coached, but I think so. I've had Zidane, Ibrahimovic ... Many have surprised me, but Ibra the most. He's a very easy player to manage, I don't know if he was for Guardiola. For me, he's a winner, he helped me a lot in Paris, which was not easy because I had to do many things and helped me to change the mentality, it was not easy."