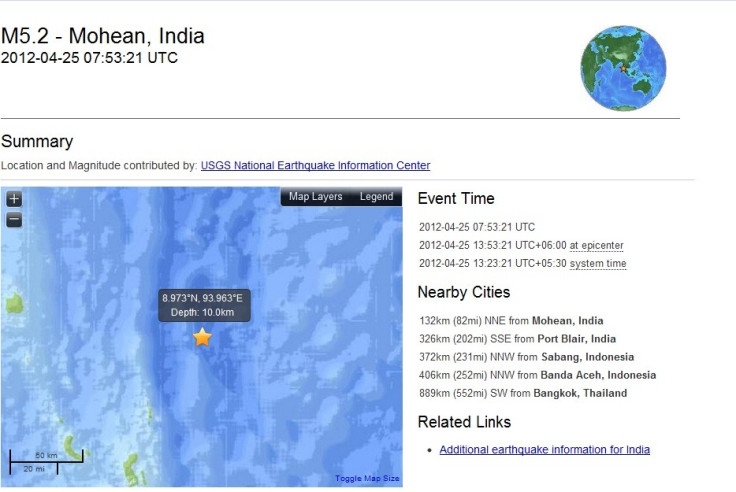 According to a bulletin issued by the United States Geological Survey (USGS), an earthquake of 5.2 magnitude has reportedly hit the Nicobar Islands region, off the eastern coast of India, at 7.53 pm (UTC) on Wednesday, 25 April. The initial report measured the quake at 5.7.
The report said the quake struck 131km NNE off the Mohean Island and 1562km from the southern Indian city of Chennai. Other proximate locations and distances include Port Blair, the capital of the Andaman and Nicobar Islands (326km) and Bangkok (889km). The exact location was given as 8.973N and 93.963E, at a depth of 10km.
According to a report from Indian news channel NDTV (which reported the scale of the quake to be 5.8), no damage has been reported so far. A much larger quake, measuring 8.6 on the Richter scale (including aftershocks of similar intensity) was felt off Indonesia's Aceh province earlier this month, resulting in widespread tsunami warnings. India also issued similar warnings and evacuations were carried out through the Nicobar Islands as a precaution.
However, no such warning has been given for this incident.