Ander Herrera has encouraged David De Gea to forget about a rumoured move to Real Madrid to become a legend at Manchester United.
The United number one was on the verge of joining Real Madrid in the summer of 2015 in a deal that would have seen Keylor Navas make the move in the opposite direction as a makeweight.
However, both transfers collapsed and De Gea decided to commit his long-term future to Old Trafford just days later, signing a new deal expiring in 2019.
But the speculations about De Gea and Real Madrid have re-emerged in recent weeks after reports in Spain revealed Los Blancos have earmarked the signing of a new number one to replace Navas as the top priority for the coming summer transfer window.
Chelsea star Thibaut Courtois is also said to be on their shopping list, but earlier in February Marca claimed that De Gea is the preferred candidate at the Santiago Bernabeu – adding that the United keeper has a €65m (£55.4m, $68.8m) release clause in his contract.
De Gea later said that he is very happy at Manchester United, but added that the future is not yet written.
Herrera, however, has backed his friend to stay at Old Trafford for the foreseeable future in order to become a United legend like Peter Schmeichel and Edwin van der Sar.
"He is one of the idols of the fans and if he continues here, he will become a club legend like Schmeichel and Van der Sar. He can surpass them. He has that in his mind," Herrea told Cadena Ser following the 3-2 win over Southampton in the EFL Cup final.
"I don't even want to consider the possibility (of him leaving). He earns points and win games for us. Also, he is my friend. I don't want him to leave and I hope he stays. Winning titles as we are doing is going to help him turn down other options. Besides, he comes from Atletico Madrid, so it won't be easy for him playing for Real Madrid."
De Gea seemed unaffected by rumours during the EFL Cup final, enjoying another impressive performance to help his side win the title.
"Today David has made two or three crucial saves," Herrera added. "He is no longer a surprise. He has been voted the best player in the team for three consecutive seasons, which is not easy for a goalkeeper. He has been included for three straight campaigns in the best XI of the Premier League and I hope we can have him with us for a long time, despite the rumours circulating, because he gives us points."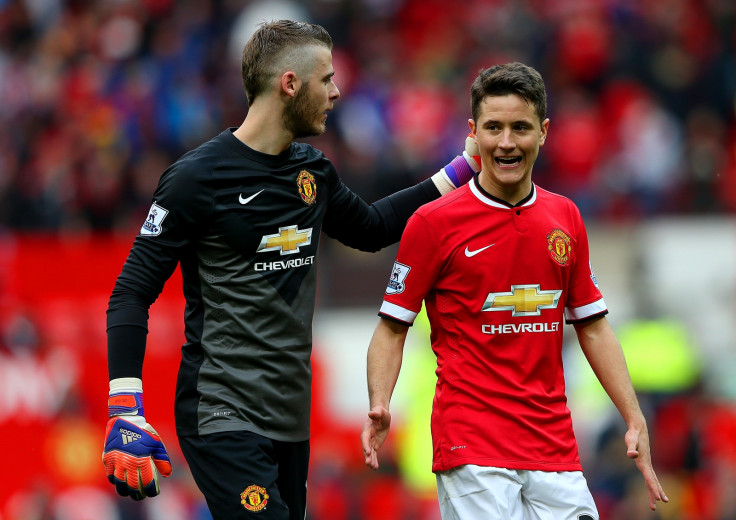 "He is a very calm guy. We are neighbours and even that summer [2015] when we had the press at the door of our hose he remained calm. He believes in himself, he has a good contract here and is valued a lot by the fans. That's why he is not in a hurry to make a change."
The Spaniard has also hailed the importance of Zlatan Ibrahimovic for the Red Devils after the veteran striker scored two goals against Southampton – including a dramatic late winner.
"He appears at crucial times," Herrera said. "We needed him in the 86th minute and he scored the goal that gave us the title. I don't know what else to say about him. He is 35, he has won titles in every country he has played in. He is competitive, he drills us about winning each game in every training session. He is a winner. You have to put up with how competitive he is."
Herrera also admitted that Southampton were the better side for parts of the final, but believes United's overall quality made the difference at the final reckoning.
"Southampton are only behind the top six or seven teams in England. They played the final without pressure, with nothing to lose. They have done a good job and during some part of the game there were the better side," the Spaniard admitted. "But I told Juan [Mata] that sometimes the badge wins the finals and today it was the case. We reacted well and we won thanks to Ibra's goal. It is already our second title of the season after the Community Shield. We already have two titles and the others none. It's not bad."