With Wayne Rooney's phasing out process well under way at Manchester United, the club will now have to start seriously considering who is going to replace the 30-year-old as club captain. Chris Smalling regularly takes the armband in Rooney's absence, but its true heir to the throne is a little further up the pitch.
Ander Herrera started the 2016-17 season on the bench, overlooked by Jose Mourinho. On Monday night (17 October), he walked off the Anfield pitch as man of the match, having choreographed a controlled midfield performance which nullified the threat of Liverpool in a goalless draw. With Marouane Fellaini also performing effectively next to him, the former Athletic Bilbao midfielder effortlessly protected his defence and was a picture of calm when the ball came to his feet.
Against Jurgen Klopp's side, he made 11 interceptions, more than anyone else on the pitch, according to Squawka. He completed five out of five take-ons and won 16 tackles. He had more touches and more passes than any other United player.
While it may have been Smalling wearing the armband, it was Herrera issuing orders and directing his teammates across the pitch. He showed he has the fire of captains of old, squaring up to Liverpool players and contesting every decision that referee Anthony Taylor gave against his side. Whether they were the right or wrong decisions is immaterial, Herrera fought for the cause on the enemy's turf in the same way Nemanja Vidic, Gary Neville and Roy Keane would have.
His frank post-match interview underlined why so many United supporters value his presence. "It was one of those must not lose games, but we have to win matches. We are Manchester United, we have to win matches," he stated, unconcerned with the man of the match trophy about to be handed his way.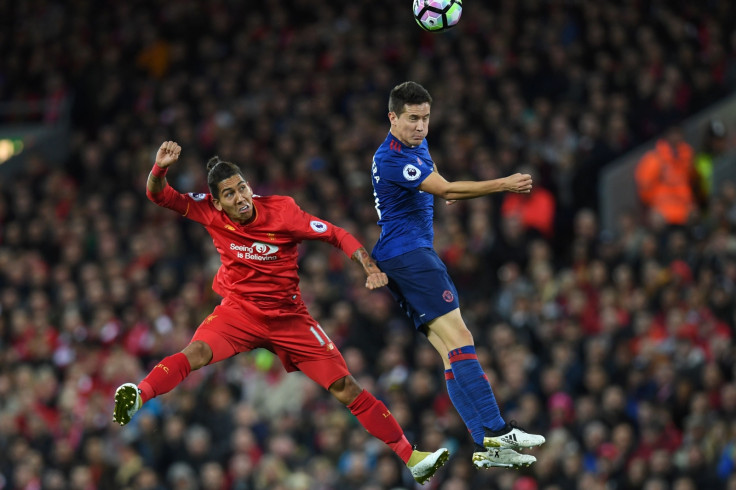 Under Louis van Gaal, Herrera was often ostracised by the Dutchman, dropped for the first-team for extended periods. The Spaniard's patchy form during the 2015-16 season didn't exactly help his cause, but following Mourinho's appointment, he has been given a clear challenge, one he appears to have already completed.
"I had to do a different role in the team and I think I can be important there for the manager," Herrera said in August. "I have spoken with the manager and we are agreed with that, that I can be an important player for the team and that I can help the team in that position. I think I can win a lot of balls back for the team. My instinct is to try to win the ball back for the team as quickly as possible."
The new combative role is a far cry from the No. 10 role he played at Athletic and often spoke of fulfilling at United. But the understanding he and Mourinho have over where his future now lies means the debate over where he plays his best football should now be settled.
With Rooney's days as an automatic starter seemingly over, Mourinho will surely now have to start considering who will be his next leader on the pitch. Herrera now embodies what his manager wants from his team more than anyone else. Herrera is one of the dressing room's most popular characters and speaks of the club with the same affection and wonderment another great former skipper in Patrice Evra used to do.
A decision will surely wait now until next summer. Herrera should still be at the front of the queue when that time rolls around.