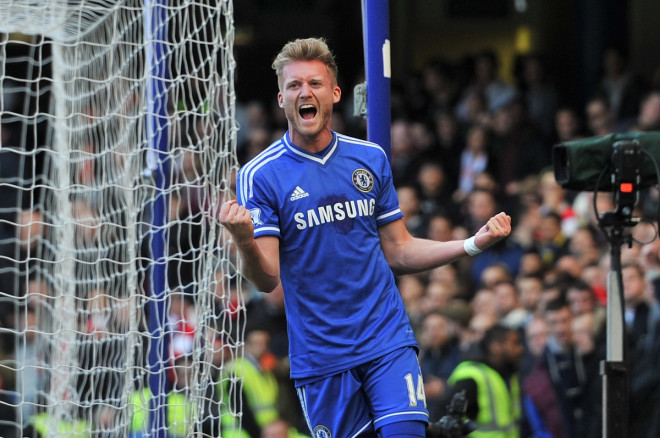 Andre Schurrle has given Chelsea manager Jose Mourinho something to think about ahead of the summer after admitting he relishes the opportunity to play as a centre forward.
The Germany international has occupied the space behind the striker following his arrival at Stamford Bridge but the struggles of Fernando Torres, Samuel Eto'o and Demba Ba have seen the Blues boss occasionally select Schurrle to lead the line.
The 23-year-old was deployed as a lone striker in the 3-1 defeat to Paris Saint Germain in the first leg of their Champions League quarter final and while the club are expected to add to their options up front his summer, he insists he will have no problem taking up a similar role in the future.
"We still made it although we were almost ruled out after our 3-1 loss in Paris. In this game I played as a central striker and also had to defend in the first line," Schurrle wrote in his blog through the club website.
"It's a position I just love to play. I didn't have to act as a centre forward or aerial powerhouse. As a centre forward I benefit much more from my speed and by moving to the wing I can create space for the succeeding midfielder.
"This move definitely makes us a bit more unpredictable and it worked in the first half."
Schurrle has enjoyed an impressive start to life in England, contributing eight goals to his side's cause and outscoring both Torres and Ba in the league.
The £18m summer signing from Bayer Leverkusen came off the bench mid-week as Chelsea held on for a goalless draw against Atletico Madrid. The Blues' visit to Anfield on Sunday ahead of the return leg next week has presented Mourinho with a selection problem, but Schurrle is still hoping for success on both fronts to conclude his debut season.
"The last rounds of the Premier League are on their way and last week we made it to the Champions League semi-finals," Schurrle continued.
"I still can't believe all the stuff I've been experiencing during my first season at Chelsea so far. The current league scenario for the season's finish couldn't be more thrilling and against Atletico Madrid we desperately want to move into the final of the Champions League."