The amount of malicious software targeting Android smartphones and tablets has increase three fold in the second quarter of 2012, showing that criminals are increasingly seeing the platform as a easy target to exploit.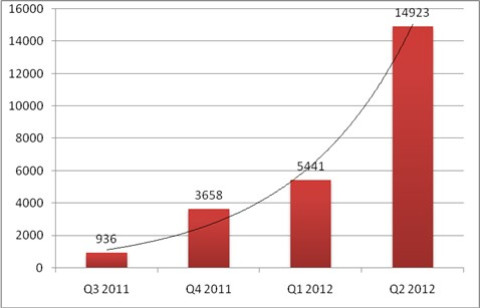 A year ago, just over 500 instances of Andorid malware were recorded. Today that figure has risen to just under 15,000. The chart above shows the speed with which Android malware is propogating, with the instances trebling in the last three months.
While the sophistication level of the malware targeting Android devices is not very complex, security experts are warning that this is going to change, and that, as well as a higher volume of malware, more personalied attacks are on the way:
"In the near future, we expect not only more malware, but more effective and dangerous malware targeting Android. Judging from existing trends, we should expect that cybercriminals will soon shift to more personalised attacks. This is preliminary about malware hunting for confidential data with which to steal money from users' credit cards," said Yuri Namestnikov, a senior malware analyst at Kaspersky Lab.
According to the latest figures from Russian-based security firm Kaspersky, about 49 percent of malicious files discoverd between April and June of this year were multi-functional pieces of malware which steal data from telephones including contact and email addresses.
In addition these malicious apps are capable of downloading modules from servers which are run by malicious users, meaning that once an app is installed on a users phone or tablets, the criminals can control and extend what it can do.
A quarter of the Android malware discovered was made up of what are known as SMS Trojans. This particular kind of malware steals money from a person's account by sending text messages to premium-rate numbers without the account holder's knowledge.
Mobile botnets
Another 18 percent of the Android malware which are used to build botnets of mobile devices. Botnets, which are groups of infected machines remotely contorlled by criminal organisations, have been prevalent for many years now among Windows PC.
The practice of creating a mobile botnet is only gathering pace and something which is likely to grow quickly in coming years, as more and more people buy smartphones.
Only two percent of the detected malware is the Trojan Spy type, gives criminals access to smarpthone users' bank account details.
Google has come under pressure for failling to eliminate the huge amount of malicious and fake apps in Google Play. Earlier this year it announced the release of Bouncer, a program which helps eliminate malware, but only after they've already been published.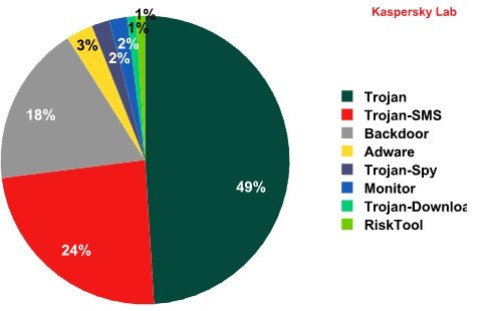 For more on this topic, visit the IBTimes UK Cyber Security page.