Smartwatches are still a long way from becoming mainstream, with new research suggesting that less than 0.1% of smartphone users actually own an Android Wear device.
Mobile device analytics firm Canalys revealed that around 720,000 Android Wear smartwatches - which includes likes of the Moto 360, the Sony Smartwatch and the Asus ZenWatch - were shipped in 2014.
Comparing this to the number of Android smartphones shipped in 2014, this amounts to just over 0.09% of all new Android phones shipped last year.
These estimates can be considered generous as they do not account for the hundreds of millions of smartphones shipped before 2014, nor do they take into consideration separate research from CCS Insight that suggests less than 50% of smartwatch owners use their wearables on a regular basis.
Even the big players in the smartphone market appear to be struggling to come up with a device that users want to wear, with poor battery life and limited functionality being the main issues holding them back widespread adoption.
"Samsung has launched six devices in just 14 months, on different platforms and still leads the smart band market," said Canalys vice president and principal analyst Chris Jones.
"But it has struggled to keep consumers engaged and must work hard to attract developers while it focuses on Tizen for its wearables."
Apple Watch to the rescue?
Some analysts believe that the launch of the Apple Watch will help bring about widespread adoption of smartwatches, claiming that the added competition will force Android Wear devices to improve.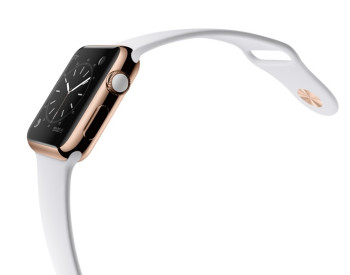 "Android Wear will need to improve significantly in the future, and we believe it will do so," said Canalys analyst Daniel Matte.
"Apple made the right decisions with its WatchKit software development kit to maximize battery life for the platform, and the Apple Watch will offer leading energy efficiency."
These claims contrast starkly with recent reports suggesting that the Apple Watch battery life will not be an improvement on the average one-to-two day battery life offered by most Android Wear devices.
Leaked performance targets from Apple that surfaced last month revealed that high-end, battery-draining features will mean the Apple Watch will only last between two-and-a-half and four hours of active application use.
Apple is yet to announce the official launch date for the Apple Watch but industry experts have widely touted it for release some time in early March.