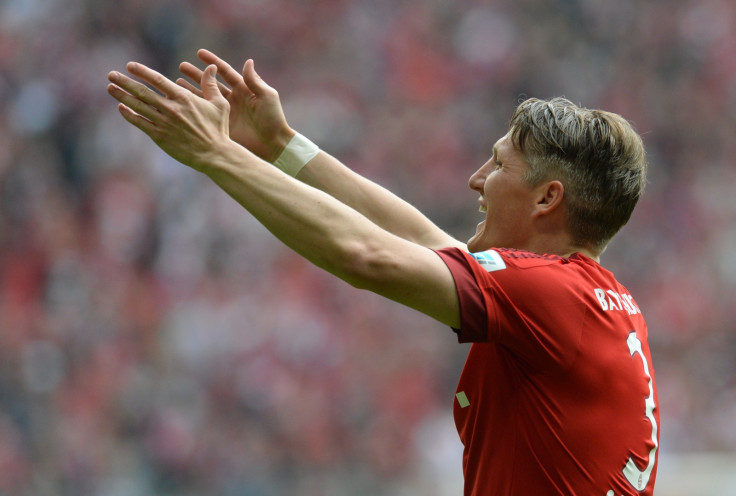 Bayern Munich and Manchester United are considering a potential swap deal that would see Angel Di Maria moving to Pep Guardiola's side with Bastian Schweinsteiger making the opposite move accompanied by a fee, according to German newspaper Sport Bild.
Louis van Gaal previously admitted he had earmarked the signing of a midfielder as a priority for the summer transfer window after Michael Carrick struggled with injuries last season.
The BBC reported that the Dutch boss eventually identified his former Bayern Munich co-worker Schweinsteiger as the top target to strengthen his squad.
Bayern chief executive Karl-Heinz Rummenigge claimed to Sport Bild earlier this month that the German international midfielder will not be sold unless the player himself asks to leave.
"I don't know if the story has weight. But from our point of view it's clear: we would only consider a transfer if Bastian were to confront us with a concrete wish. That's not the case," he said.
Club legend Franz Beckenbauer also advised him to snub a move to the Premier League, saying: "I would advise him not to go to England. He can stay here as well. This challenge, at his age, it's not what he needs.
"I would play one or two more years in Munich, at this high level. And then, if he still wants to and if he still feels like playing football is the thing, he can make a step back and maybe go to the US.
But Sport Bild now suggests the possibility of a swap deal between Di Maria and Schweinsteiger that could benefit both parties.
Pep Guardiola is desperately looking for a winger due to Frank Ribery's recurrent injury problems and the German publication suggests he would welcome the Argentinian star, who struggled to make the expected impact in his debut season at Old Trafford.