No other team is perhaps more familiar with the struggles of finding a replacement for their long-serving stalwarts than Manchester United. It took them six years to find a player capable of filling the void left by Peter Schmeichel. Someone is still being sought to replicate the presence of Nemanja Vidic. And the less said about their initial attempt to replace Sir Alex Ferguson, the better.
At 33, Michael Carrick isn't quite there yet. The midfielder is likely to have at least two more seasons in him but a gradual passing of the torch must come before he leaves the club, not after.
You only have to consider how Louis van Gaal's side ground to a halt in his absence, in the 3-0 defeat to Everton on 26 April, to see how important he is to the Manchester United machine. It was a worrying glimpse into a future the club must strive to avoid.
It is not a job for Daley Blind, before you ask. The Dutchman's industry in midfield and versatility across the pitch is a valuable commodity in Van Gaal's set up but he lacks the necessary skills needed to be an effective deep lying playmaker again elite opposition.
Getting that position right is integral to the current system and the stats suggest there is no one in the United ranks capable of replicating it. In the 14 league games this season where Carrick has started at the base of United's midfield, they have collected 35 points. In the 20 games where someone else has, be it Blind, Darren Fletcher or Wayne Rooney, that tally drops to a mere 30.
Given his advancing years and injuries this season (an ankle, a groin and two calf problems), it is inevitable he will miss games next term. Someone to step in and eventually take over is needed. Rampant reports claiming United have moved forward with a bid for Borussia Dortmund's Ilkay Gundogan would suggest Van Gaal has thought of this too.
Gundogan or Schneiderlin could work well at United
While the German doesn't possess the defensive organisation of the United veteran, they share similar traits as central midfielders, namely their excellent positioning, expansive range of passing and intelligent use of the ball. Gundogan of 2011 to 2013 looked potentially tailor made for the role, but there will understandably be some anxiety over any move for him given the year he spent out of the game with a chronic back problem.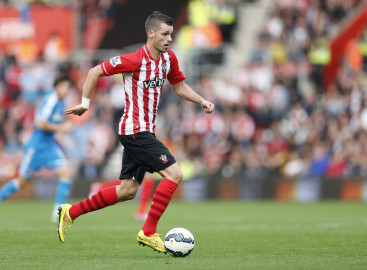 Southampton's Morgan Schneiderlin would also appear to tick all the necessary boxes. Since arriving on the south coast from Strasburg in 2011, the Frenchman has evolved into one of the most commanding midfielders in the Premier League.
Another to boast excellent decision-making with the ball, his tactical discipline and robust presence could potentially complement Ander Herrera perfectly.
For a measure of how effective he can be, you can consider Saints' drop in form during his injury absence in mid-January. Ronald Koeman's side were third in the Premier League off the back of wins over United and Arsenal. By the time Schneiderlin returned, they had dropped to fifth.
Marco Verratti may be the best option of them all. An Andrea Pirlo with added bite, the diminutive Italian shares the calmness on the ball that makes Carrick's game so essential to the way United want to operate. At 22, he is already one of the best in Europe in his position and that is precisely why Paris Saint-Germain will not let him go.
But as United found out in their attempts to find someone capable of filling the boots of Roy Keane 10 years ago, sometimes there is not a replacement out there. Following the failed projects that saw Kleberson, Liam Miller and Alan Smith flounder in their attempts to replace the Irishman, Carrick's arrival prompted a change in approach.
Perhaps United will be best served repeating that trick, constructing a new midfield around Carrick's eventual departure rather than searching for a direct replacement for the player he has grown into. You will be hard-pressed finding one.