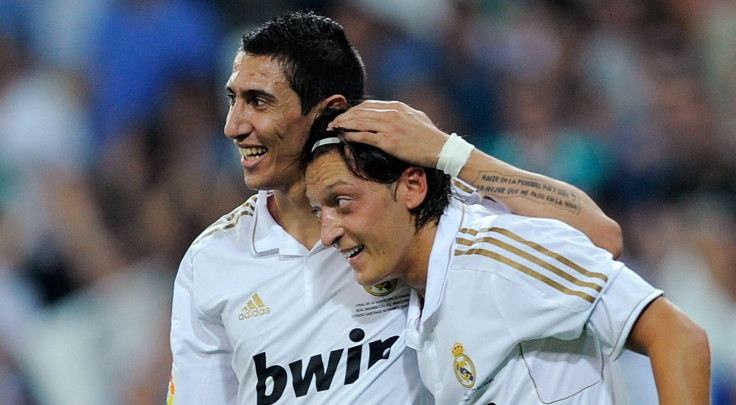 Manchester United winger Angel di Maria's and Arsenal playmaker Mesut Ozil's poor form since moving to English football will not relent, until they recover from their premature departures from Real Madrid, according to ex-England defender Gary Neville.
United and the Gunners made Di Maria and Ozil their record signings in the last two summer transfer windows in deals worth £59.7m and £42.4m respectively, but neither player have yet repaid that investment.
Di Maria has been taken off in each of his last two United appearances while there are questions over Ozil's role in the Arsenal team after a lengthy spell out with a knee problem, which has been followed by criticism from Paul Scholes.
And Neville believes that the pair are still harbouring regrets over their moves to United and Arsenal, having had their dream spells at Real cut short.
"Within days of signing for United, Di Maria released a letter to Real Madrid supporters insisting it was never his wish to leave the Bernabeu," Neville wrote in the Daily Telegraph.
"We have to accept that, as a South American, playing for Real Madrid or Barcelona is probably the fantasy of every footballer from that part of the world and Di Maria has moved to England after being told he was not wanted at his dream club.
"So he has come to United when he did not want to leave Madrid, has suffered the trauma of a burglary, and started to work for a new manager while playing in a team that is still in a 'storm' phase of development.
"But in attempting to pinpoint why Di Maria has struggled to deliver at United, I think you must also look at Mesut Ozil at Arsenal.
"Just like Di Maria, Ozil was pushed out of Madrid and he has since struggled to be the game-changer that I believe a £42m player should be for Arsenal.
"Although Arsenal fans often complain when I highlight Ozil's shortcomings, my response is that I generally see him in the bigger games against the top opponents and he has not delivered.
"He does not influence games as he should, but maybe Arsenal and United fans need to accept that it will take longer for the German and Di Maria to come good.
"For me, it is as though leaving Real Madrid has been like a bad divorce for the pair of them - a messy end to a relationship that will take maybe eighteen months to two years to overcome."