After dividing American with his polarising policies, Donald Trump has managed to provoke the wrath of actress-turned-humanitarian, Angelina Jolie.
In an op-ed penned for the New York Times titled: Refugee Policy Should be Based on Facts, Not Fear, the Hollywood A-lister made her stance on the executive order — which prevents refugees from seven Muslim-majority countries including Syria, Iran and Iraq from entering the US for 90-days — very clear. According to Jolie, the ban, which has been widely condemned as "racist" went against America's values and would only cause further instability the persecution of "innocent refugees".
"Every time we depart from our values we worsen the very problem we are trying to contain," Jolie said.
Jolie, who has been a special envoy for the United Nations High Commissioner of Refugees since 2012, continued: "We must never allow our values to become the collateral damage of a search for greater security. Shutting our door to refugees or discriminating among them is not our way, and does not make us safer.
"Americans have shed blood to defend the idea that human rights transcend culture, geography, ethnicity and religion," the Oscar-winning actress continued. "The decision to suspend the resettlement of refugees to the United States and deny entry to citizens of seven Muslim-majority countries has been met with shock by our friends around the world precisely because of this record."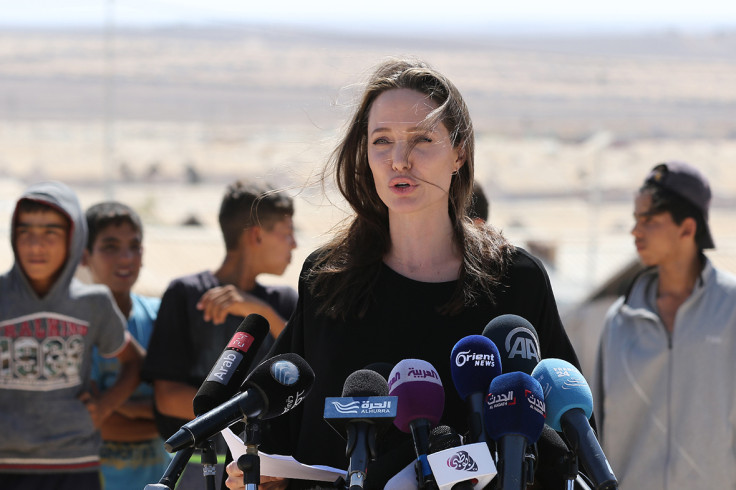 She went on to note that refugees are already put through extensive vetting process which includes "months of interviews, and security checks carried out by the FBI, the National Counterterrorism Center".
She also cautioned the Trump: "If we send a message that it is acceptable to close the door to refugees, or to discriminate among them on the basis of religion, we are playing with fire. We are lighting a fuse that will burn across continents, inviting the very instability we seek to protect ourselves against."
The mother-of-six added that American must continue to "uphold the United Nation's conventions and standards we fought so hard to build after World War II, for the sake of our own security".
Trump's controversial travel ban was the hot topic at the 2017 Screen Actor's Guild awards with the likes of Taraji.P. Henson, Mahershala Ali, Ashton Kutcher and Emma Stone using their acceptance speeches to address the controversy.