Jewish people are venting their anger at Sainsbury's after the supermarket chain emptied its kosher food section over fears it would be targeted by anti-Israel protesters.
The supermarket's decision to withdraw meats, cheese and sauces from its shop in Holborn on Saturday during a demonstration against the war between Israel and Hamas in Gaza, has attracted online complaints from critics who claim the chain is "anti-Semitic" and "persecuting" Jewish people.
Actor Colin Appleby posted a photo of the empty shelves on Facebook and pointed out that many of the goods were not from Israel but from other countries, including Britain and Poland. He claims he heard a Sainsbury's worker defending the removal by saying: "We support a Free Gaza".
When Appleby challenged staff over the distinction between Israeli and kosher goods, they just "walked away". Sainsbury's has denied both claims.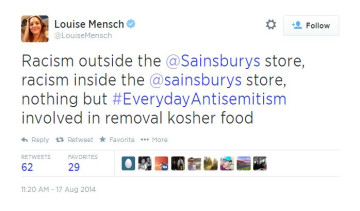 Louise Mensch, a former Tory MP, wrote on Twitter: "Dear @Sainsburys kosher is JEWISH food. Israel is a COUNTRY. How DARE YOU equate Jews' food to ISRAEL, how dare you #EverydayAntisemitism".
Mensch also wrote: "Tell @Sainsburys they have no right to remove kosher food from their shelves and discriminate against Jews, instead of just CALLING POLICE".
Facebook user Gavin Platman, a British Jew, commented on Facebook: "Naturally I am against the death of innocent children in Haza, so why are you persecuting me by denying me the right to buy kosher food?"
The Jewish ancestry of the Sainsbury family is well-documented and dates back to the 19th century. The grocer has insisted the decision was taken to prevent protesters hurling food from the shelves, which would then have to be thrown away.
But Platman made a formal complaint about the incident, which happened just half a mile from the company's headquarters in Holborn Circus, central London.
He wrote to Sainsbury's: "I presume you are aware that Kosher food is produced in countries other than Israel? You are therefore not making a political statement against Israel but instead are targeting a group based on race – i.e. Jews."
Writing on the grocery chain's Facebook page, he continued: "I presume you are also removing Halal food in the protest against the Islamic State slaughtering Yazidis. Clearly not – therefore you have blurred the line between political statement and hate crime."
A spokesperson for Sainsbury's said: "It was the manager's decision there and then - not company policy at all. We are a non-political organisation and we're not coming down on either side of the argument.
"We have had similar demonstrations at stores where people have gone in and removed goods, though no great damage was done.
"A decision was taken by a store manager faced with a challenging situation outside the store".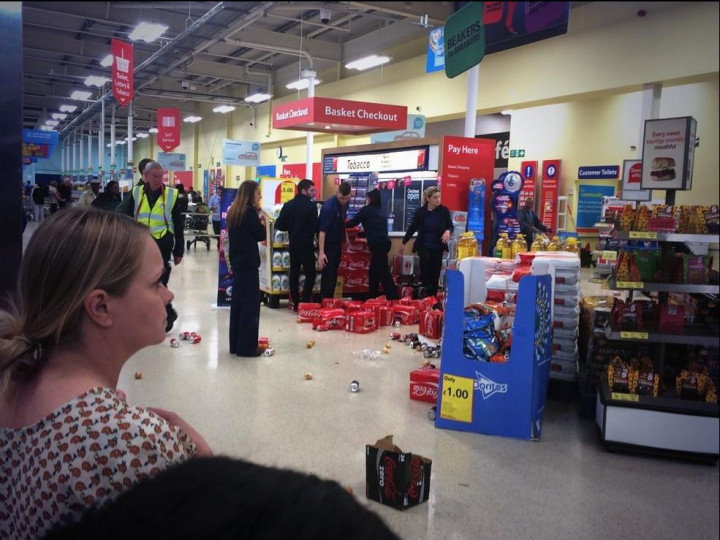 The incident happened the same day protesters stormed a Tesco store in Birmingham as part of a nationwide boycott of the supermarket, which is accused of selling goods produced in Israel or from companies with links to the country.
Tesco has previously reported anti-Israel demonstrations at 20 of its stores, but campaigners deny the supermarket is being targeted because it was founded by a Jew.
A spokesman for West Midlands police said: "The protest was largely peaceful among the 100 protesters but some began throwing stock inside Tesco store. Two were escorted from premises."
One man was arrested for assaulting a police officer.
George Galloway, Respect MP for Bradford West, who controversially called for a ban on Israeli people in the city last week, tweeted his support for the Target Tesco campaign.
He wrote: "Boycott Tesco, there's blood on their oranges. All please target Tesco. Don't use it. Picket it. Send back your cards."