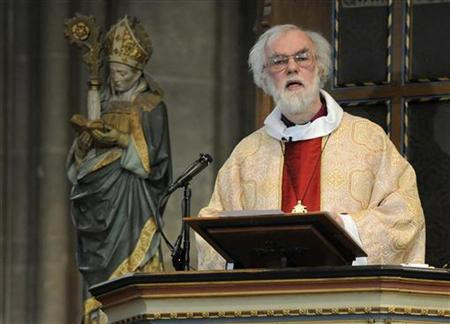 The Anglican Church is to set approve controversial guidelines allowing openly homosexual clergy to become bishops. Guidance that will be carried before the Church's General Synod in July will set out proposals for the Anglican Church to fall in line with European and UK equality acts. The paper entitled ''Choosing Bishops - The Equality Act 2010'' will provide legal guidelines for those members of the clergy looking for promotion within the Anglican Church must not be discriminated against because of their sexuality.
"A person's sexual orientation is in itself irrelevant to their suitability for episcopal office or indeed ordained ministry, given the clergy member has been celibate during priesthood, the document will outline.
However, there is a fear among campaigners that the document does not go far enough and these measures will in fact serve to do nothing for the promotions of any openly homosexual clergyman attempting to climb the ladder of the Anglican Church. The document itself is not in support of openly gay bishops and has a number of grey areas. For example, the document sets out ways in which the Anglican Church will be able to oppose any homosexual promotion.
The Anglican Church will have the right to turn down an applicant if they feel it will cause deep-rooted conflict within a community. As one of the most controversial topics Anglican Church leaders have had to grasp with for decades, the likelihood of there being no get out clause seems minimal.
"It is clearly the case that a significant number of Anglicans, on grounds of strongly held religious conviction, believe that a Christian leader should not enter into a civil partnership, even if celibate, because it involves forming an exclusive, lifelong bond with someone of the same sex," it added.
The Church is under severe pressure to clarify its position after Jeffrey John a celibate priest who is in a civil partnership with another cleric, was forced to stand down as a suffragan priest eight years ago. Jeffrey John in that time has campaigned for the Anglican Church to fall into line with European and UK equality practices and the new document will be presented before the Church's general Synod in July.
The Archbishop of Canterbury, Dr Rowan Williams, has described the divisions over the issue of gay clergy as "a wound in the whole ministry "Furthermore, the guidelines have angered those campaigning for greater inclusion in the Church of England. General Synod member Christina Rees said: "Nobody other than Jeffrey John has been honest about their sexuality. It is distasteful that gay clerics are asked about their sex lives. There is no parity between them and straight clerics."
Rees warned that the guidance was "too open" for people to exploit as they could argue that the appointment of a gay bishop could prove divisive at home or overseas. However, Rees is quick to overlook the fact that the American Episcopal Church has made two such appointments in the last decade.