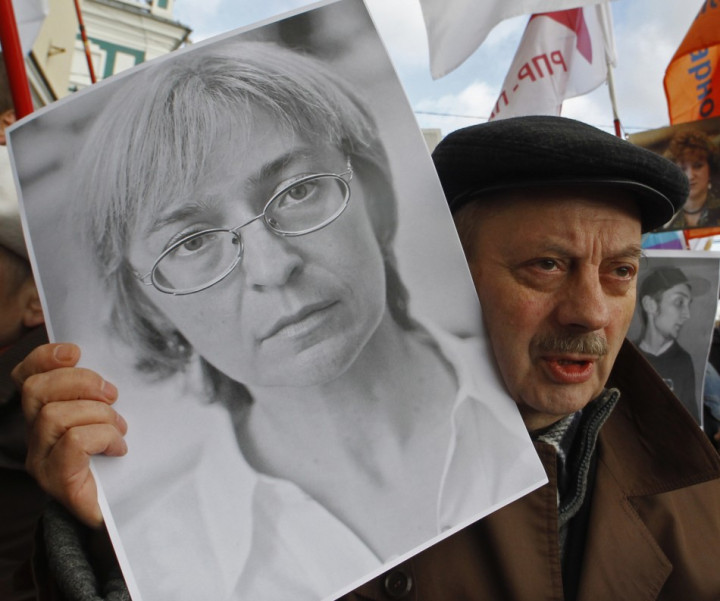 Prosecutors at a Moscow court have demanded a 12-year prison sentence for a former police officer accused of involvement in the killing of anti-Putin journalist Anna Politkovskaya.
Former colonel Dmitry Pavluchenkov was charged with murder for hiring a Chechen businessman, Lom-Ali Gaitukayev, to put together a six-man hit squad for the murder, and of arming the gunman who shot down the journalist in the hallway of her central Moscow apartment block in October 2006.
The trial was partially closed to the public because some documents, classified as 'secret', could not be read out in public.
Politkovskaya's work exposed corruption, criticised president Vladimir Putin and condemned atrocities committed by Chechnya's Moscow-backed authorities.
The verdict could be announced on Friday as Pavluchenkov is being heard on a fast-track trial, after a plea bargain agreed between the accused and prosecutors.
"Pavluchenkov tries to present himself as someone of little importance but he without doubt knows the mastermind (of the killing)," Politkovskaya's son Ilya told a news conference on Tuesday.
"The judges will undoubtedly close the trial to the public but we are not going to accept that it is kept secret," he added.
"I would like Pavlyuchenkov to appear together with all the participants of this criminal group, so that his testimony will be examined in the court, not in a closed court procedure where he won't give testimony but instead will simply confess his guilt, and that will be all," he said.
The failure to bring the mastermind to justice has triggered anger and frustration among journalists and human rights activists.
The journalist was killed on the birthday of Vladimir Putin, fuelling theories that authorities were involved in the murder.
Pavlyuchenkov has reportedly claimed to have heard that self-exiled tycoon Boris Berezovsky and Chechen separatist leader Akhmed Zakayev were behind the murder. However both men have denied any wrongdoing.
"This is a politically motivated version of who ordered the crime," said Anna Stavitskaya, the lawyer representing Politkovskaya's relatives.