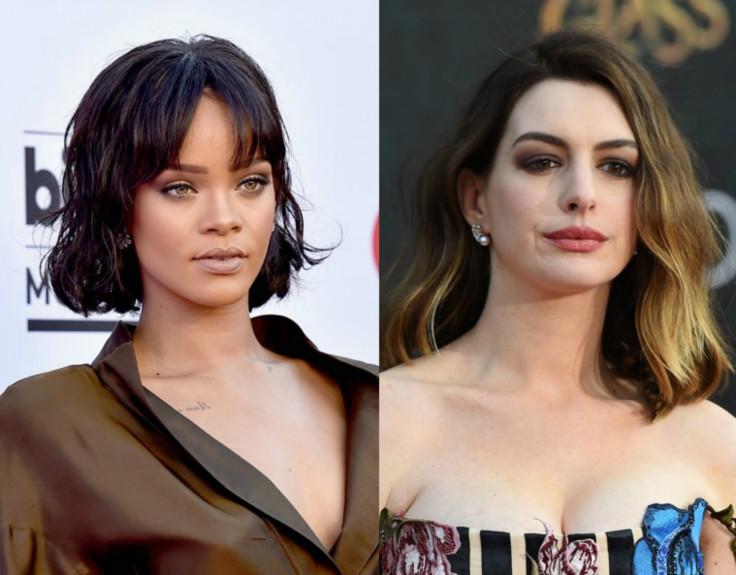 Anne Hathaway gave a huge hint of joining the all-women Ocean's Eleven reboot titled Ocean's Eight. The American actress took to Instagram to share her excitement about the news and called the reported ensemble as 'dream cast'.
The 33-year-old American actress posted a video on the image and video sharing website and tried to name the reported and confirmed cast members including Cate Blanchett, Rihanna, Helena Bonham Carter, Mindy Kaling and rapper and actor Nora Lum, popularly known as Awkwafina. However, she missed out on Sandra Bullock's name, who is set to play the sister of George Clooney's Danny Ocean.
"And Blanchett. And Kaling. And Rihanna, @Awkwafina, and my sweet sis HBC. Not too bad for a Wednesday. #oceansocho #dreamcast @mindykaling @badgalriri @jordanpeele @keeganmic," she captioned the video.
Fans of the Princess Diaries actress were a little sceptic after she missed Bullock's name. "Why no Bullock love?" commented one fan on the post. "How about Bullock though?" asked another.
On Tuesday (10 August), Deadline reported that Warner Bros are close to cast the lead actresses Bonham Carter, Hathaway, Rihanna, Mindy Kaling and rapper and actor Awkwafina. The movie production company, however, is yet to confirm the news.
The all-female reboot of the classic heist movie will be directed by Gary Ross. The plot of the movie is expected to be similar to the original Ocean's Eleven franchise which saw George Clooney and Julia Roberts's characters at the centre of a casino heist.
Ross will co-write the story with Olivia Milch in the Steven Soderbergh-produced movie. The filming for the highly anticipated movie will begin in October this year. Bonham Carter has previously praised the script as a "great" script for women. "It's a really good script – but I still don't know if I'm going to be in it. But it's a great script, and it's great for women. Just hilarious," she told EW.