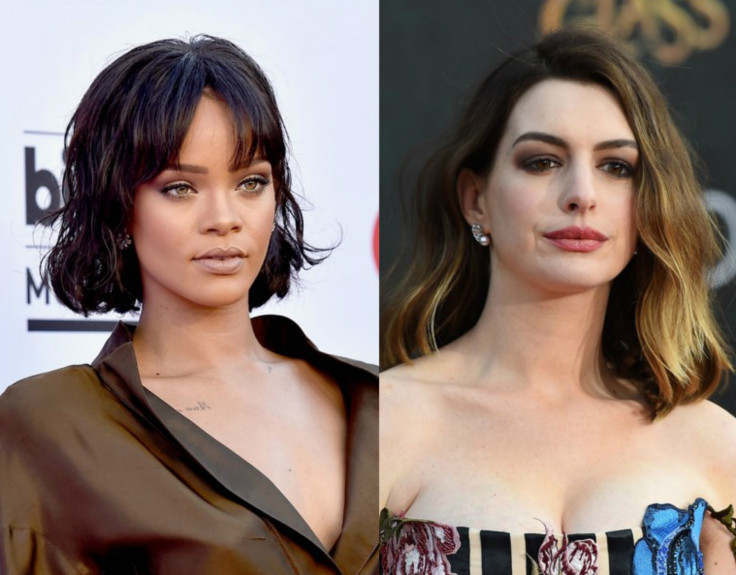 The Ocean's Eight cast just got bigger as Anne Hathaway, Rihanna and Helena Bonham Carter are among those reportedly in talks to appear. The Hollywood stars will be in good company as Sandra Bullock and Cate Blanchett were previously confirmed for the all-female reboot.
Warner Bros are close to officially signing Bonham Carter, Hathaway, Rihanna, Mindy Kaling and rapper and actor Awkwafina, real name Nora Lum, Deadline reports. The movie studio and director Gary Ross are reportedly looking for a final member to join the core cast completing the group of eight. Filming and production is expected to be begin in October 2016 in New York.
Directed by Gary Ross, the reboot will boast an all-female cast, similar to Paul Feig's recent Ghostbusters remake, and is expected to follow a similar storyline to the original Ocean's Eleven franchise which saw George Clooney and Julia Roberts's characters at the centre of a casino heist.
The reboot will be produced by Steven Soderbergh and co-written by Ross and Olivia Milch. According to Deadline, it is possible that the original cast members, including Brad Pitt, could make an appearance.
Ross teased the direction of Ocean's Eight in June, telling Slash Film: "I think it's a pretty similar tone. You know, [director of the remake trilogy] Steven Soderbergh and I are incredibly close friends, and we would not have done this if we weren't. I don't think he would've wanted anyone to do it if we weren't. This is very much an extension and a continuation."
Bonham Carter spoke highly of the reboot in June but said she was unsure if she would star. The Alice Through The Looking Glass actress told Entertainment Weekly at the time: "It's a really good script – but I still don't know if I'm going to be in it. But it's a great script, and it's great for women. Just hilarious."
The original Ocean's Eleven, itself a reboot of a 1960 vehicle for Frank Sinatra's Rat Pack, spawned the sequels Ocean's Twelve and Ocean's Thirteen. A release date for Ocean's Eight is yet to be announced.