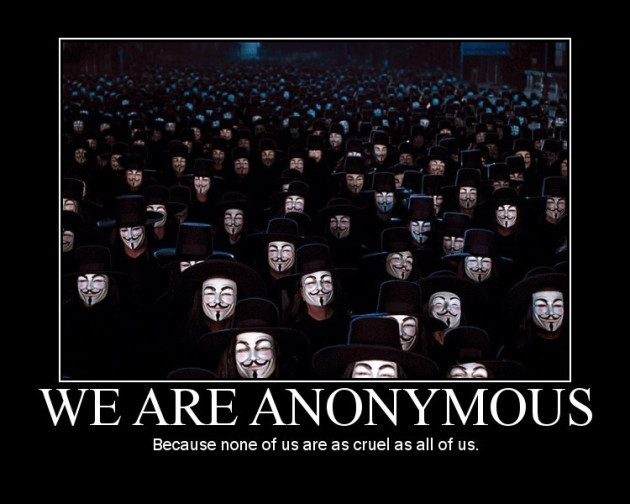 With Anonymous AnonOps site being born exactly one year ago, the International Business Times UK takes you through three of the collective's best moments to date.
1) Anonymous Hackers Release Evidence of Brazilian Government Corruption
Back in August, Anonymous released a series of files allegedly proving corruption within the Brazilian Government.
Links to the data were posted alongside a statement on the pastebin website on Wednesday 10 Aug, 2010. In its accompanying statement Anonymous claimed to have released "evidence revealing government cover-up of a corruption investigation involving the CIA, the Brazilian telecom industry, and multiple US corporations."
The files were reportedly taken from evidence collected during Operation Satiagraha -- an investigation aimed to expose corruption in the Brazilian Federal Police force carried out between 2004 to 2008.
Led by Protógenes Queiroz the original operation led to the arrest of numerous Brazilian bankers and financiers.
The attack and resulting data-dump was reportedly done in protest of Quiroz's removal from the case and the alleged cover-up that subsequently occurred. Quiroz was reportedly removed from the case for failing to tell his superiors about the Secret Service's involvement.
After his removal an investigation was mounted regarding his reported collaboration with the Secret Service and use of illegal wire taps. Some of the data posted by Anonymous, claimed to have been taken from these, previously unreleased, wire tap files.
In its statement Anonymous clarified that it had taken exception to the government's subsequent refusal to release the files to the public, arguing that it was a direct attempt to hide its own involvement.
"We do not stand for government or parties. We stand for freedom, of people and information. We are releasing them to spread information, to allow the people to be heard and to know the corruption in their government. We are releasing them to bring power to the voice of the people of Brazil.
"We are releasing them to end the corruption that exists, and truly make those who are being oppressed free," read Anonymous' statement.
2) Anonymous OpPayPal Hits eBay Where it Hurts
As well as seeing an alleged 20K-plus users close their PayPal accounts, Anonymous' OpPayPal reportedly led to a $1 billion loss for PayPal's parent company eBay.
The entirely legal campaign began in July when Anonymous called for "anyone using PayPal to immediately close their accounts and consider an alternative."
The campaign was reportedly motivated by the U.S. FBI and PayPal's treatment of alleged Anonymous hacker Mercedes Renee Haefer -- an American journalism student who was arrested by the FBI for alleged involvement in a number of Anonymous hacks.
With the Op's primary goal being to affect eBay's stock value, upon the opening of NASDAQ the stock had seen a marked decrease, starting with a rough 1.7 per cent decrease before peaking at a sizable 3 per cent-plus drop, leaving it with a $33.47 value. The day before eBay stock had been selling for around $34.4.
As well as the drop in stock value, Anonymous also reported the campaign had seen 20,000-plus users cancel their PayPal accounts.
3) Anonymous Punish News International For Phone Hacking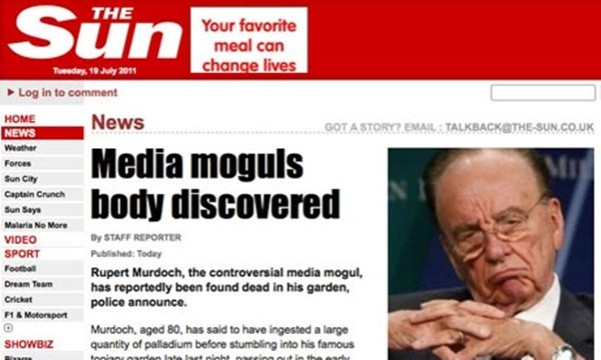 Back in July after LulzSec's initial attack on the Rupert Murdoch owned News International, famed Anonymous hacker Sabu promised to release a slew of emails allegedly taken during the cyber-raid.
The alleged emails were reportedly taken during LulzSec's high-profile attack on the News International owned U.K. Sun newspaper. The initial attack saw the hackers post a fake story reporting that media tycoon Rupert Murdoch had died in his garden. After the story was removed LulzSec went on to re-direct all Sun website visitors to the group's Twitter page.
LulzSec's hack was later reported as a "smoke-screen" for the real attack, aimed at News International's email databases. In a tweet posted during the attack the group boasted: "Don't be a #peon like the others. We are showing you a very small surface; the real damage is currently giving the admins heart attacks. ;)"
Later adding insult to injury tweeting a link to a picture of Rupert Murdoch performing undignified acts on the group's mascot.
Anonymous later clarified that its attack was motivated by the company and Rupert Murdoch's involvement and handling of the phone hacking scandal. The scandal occurred after it was revealed that the now discontinued News of the World newspaper had hacked the mobile phone of murdered school girl Milly Dowler.
Since the revelation a Pandora's Box has opened with increasing numbers of hacks on celebrity's and politician's phones coming to light.