The police arrested 15 people during a planned demonstration in central London and have so far charged three of them.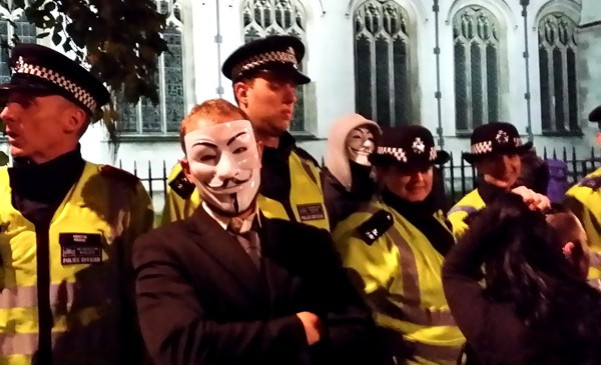 The most serious charge to arise from the arrests will see a 25-year-old woman facing two separate charges of assaulting a police officer at a protest which the organisers said would see "no sign of aggression" from demonstrators.
The arrests stemmed from a march organised by online hacktivist collective Anonymous, which coincided with similar protests taking place around the globe in 400 cities aiming to highlight a range of injustices and corruption.
The march in London was, for the most part peaceful, though police have confirmed they made 15 arrests in total with three of those already having been charged, one released without charge and 10 others still in custody.
Jemma McCarthy, 25, from Greenacres Drive, Bourne, Lincolnshire has been charged with two counts of assaulting a police officer during the demonstration and was remanded in custody to appear again on Wednesday at Westminister Magistrates' Court.
Public order offences
The two other defendants were charged with public order offences and will appear in court again on Tuesday, 19 November. Ashley Anderson Hunte-Smith, 25, of Lessness Road, Morden and Jordan Mark Perry, 21, of Allen Close, Wheathampstead St Albans were both arrested at the event in London on Tuesday.
While police wouldn't give any estimates for the number of people attending the protest in central London on Tuesday, reports put the figures at well over 1,000 people.
A 33-year-old man was arrested for an outstanding warrant but has been released with no further action. A 50-year-old man arrested for theft has been bailed pending further enquiries to a central London police station on a date in January, 2014.
The other 10 people arrested currently remain in custody at a central London police station.
Read More: